The «consorzi vinicoli» in Italy during the twentieth century: a model of success co-operative enterprise
Keywords:
Wine sector, co-operative wineries, Italy, twentieth century
Abstract
Co-operative wineries in the traditional wine-producing countries of the Mediterranean Europe show similar features from a historical point of view. These entities are a key factor to understand the evolution of the wine sector in the major producing region of the world. In this context, the case Italy is outstanding. In that country co-operative wineries have experienced greater business success. That contradicts to a part of economic theory that considers that this business model is less efficient than capitalist and it is useful only in times of crisis. The main target of this work is to establish what were the causes of Italian co-operative wineries are a case of business success. We consider the key factor of this differential fact was the presence of "umbrella organizations". They helped to structuring and developing the sector to improve their competitiveness through the formation of large co-operative consortia of second and third degree (consorzi vinicoli).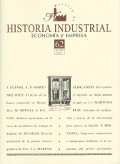 Downloads
License
El/la autor/a cede los derechos al/la editor/a. Creative Commons
El/la autor/a que publica en esta revista está de acuerdo con los términos siguientes:
El/la autor/a cede en exclusiva todos los derechos de propiedad intelectual al/la editor/a para todo el mundo y toda la duración de los derechos de propiedad intelectual vigentes aplicables.
El/la editor/a difundirá los textos con la licencia de reconocimiento de Creative Commons que permite compartir la obra con terceros, siempre que éstos reconozcan su autoría, su publicación inicial en esta revista y las condiciones de la licencia.