Riotinto: the decline of a mining myth (1954-2003)
Keywords:
Mining, extraction and refining, Financing policy, Capital and ownership structure, Trade and labor market, Exhaustible resources and economic development
Abstract
This article is focused on the history of Riotinto mines since its acquisition by Spanish capital in 1954 until its closure in 2003. Half a century in which the mine met various national and foreign owners who faced technical, financial and labor problems in order to market pyrites, copper, gold and silver in a process of accelerated extraction, resource depletion and falling prices, in the framework of a Spanish and global economy increasingly globalised. This article referred to the problems above to leave hanging the question about the fate of the mining districts who have not had the opportunity to diversify their economies, leaving a picture of strong environmental impact and productive and human desertification.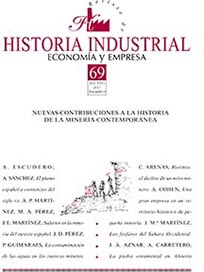 Downloads
License
El/la autor/a cede los derechos al/la editor/a. Creative Commons
El/la autor/a que publica en esta revista está de acuerdo con los términos siguientes:
El/la autor/a cede en exclusiva todos los derechos de propiedad intelectual al/la editor/a para todo el mundo y toda la duración de los derechos de propiedad intelectual vigentes aplicables.
El/la editor/a difundirá los textos con la licencia de reconocimiento de Creative Commons que permite compartir la obra con terceros, siempre que éstos reconozcan su autoría, su publicación inicial en esta revista y las condiciones de la licencia.