Chile's National Electricity Company (ENDESA): a successful case of state-led national electrification, c.1936-1981
Keywords:
Hydroelectricity, Chile, Hydropower, state-owned companies
Abstract
This article provides a detailed account of the electrification of a backward economy; how Chile developed from consuming less than 130 kWh per inhabitant, with an electricity matrix dominated by thermal power plants, and little involvement from the public sector, to consuming over 800 kWh per person, largely because of hydropower stations, which greatly improved the living standards of the population. This change was mainly attributable to the design and implementation of an ambitious National Electrification Plan, implemented by the state from the 1940s to the 1970s, which relied heavily on capital investments. This national accomplishment was not down to private enterprise; it was directly orchestrated and executed by a public sector company, ENDESA, although relying heavily on foreign loans. The article explains what made this success possible: qualified workers, generous financing by external institutions, the availability of rich water resources, and a lack of environmental concerns.
Downloads
Download data is not yet available.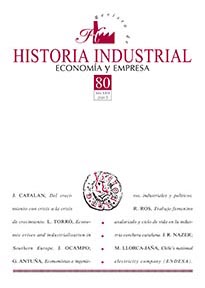 Downloads
License
El/la autor/a cede los derechos al/la editor/a. Creative Commons
El/la autor/a que publica en esta revista está de acuerdo con los términos siguientes:
El/la autor/a cede en exclusiva todos los derechos de propiedad intelectual al/la editor/a para todo el mundo y toda la duración de los derechos de propiedad intelectual vigentes aplicables.
El/la editor/a difundirá los textos con la licencia de reconocimiento de Creative Commons que permite compartir la obra con terceros, siempre que éstos reconozcan su autoría, su publicación inicial en esta revista y las condiciones de la licencia.