How local conditions affect global banking: the case of BBVA and Santander
Keywords:
Banking globalisation, Financial markets in Latin America, Spanish banks
Abstract
This paper explores why Spanish banks internationalize and why Latin America has been the main region for the international expansion of BBVA and Santander. It shows that prior to 1986 Spanish banks had a limited presence abroad, and analyses the main drivers of this initial expansion (remittances and trade connections). However, from 1986 on, there was a confluence of domestic and external factors (economic and regulatory changes in Latin America) that encouraged the international forays of BBVA and Santander. The fact that changes in the Spanish and Latin American financial sectors occurred just when other transnational banks were turning their attention to other regions created the optimal conditions for the expansion of Spanish banks in Latin America.
Downloads
Download data is not yet available.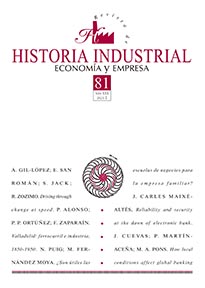 Downloads
How to Cite
Cuevas, Joaquim, Pablo Martín-Aceña, and Maria A. Pons. 2021. "How Local Conditions Affect Global Banking: The Case of BBVA and Santander". Revista De Historia Industrial — Industrial History Review 30 (81):189-227. https://doi.org/10.1344/rhi.v30i81.31071.
License
El/la autor/a cede los derechos al/la editor/a. Creative Commons
El/la autor/a que publica en esta revista está de acuerdo con los términos siguientes:
El/la autor/a cede en exclusiva todos los derechos de propiedad intelectual al/la editor/a para todo el mundo y toda la duración de los derechos de propiedad intelectual vigentes aplicables.
El/la editor/a difundirá los textos con la licencia de reconocimiento de Creative Commons que permite compartir la obra con terceros, siempre que éstos reconozcan su autoría, su publicación inicial en esta revista y las condiciones de la licencia.