Las Habilidades de Autocontrol y Autorregulación en la Edad Preescolar
Habilidades en preescolares
Keywords:
self-control, self-regulation, childhood, learning, children
Abstract
The Pre-school stage is one of the most important moments in human life; it is there that children present significant advances in all dimensions, but especially develop the socio-emotional part of the time they interact with each other: empathy and love of their own. Self-monitoring and self-regulation skills, which are of great significance at this stage, are also framed, as they are aimed at children being able to regulate what they think and feel, thereby distinguishing, from this, the way they respond to any situation they are presented with in life. Through this article, it is proposed to take a general look at the skills of self-control and self-regulation at the Pre-school stage; a narrative review was carried out, where scientific literature was considered that would allow studies to be known where self-regulation and self-control in children had been assessed. According to the findings of the literary review, the results are presented considering the following categories: conceptualization of self-control and self-regulation skills, child self-regulation and parental styles, self-regulation and gambling. Through this theoretical approach and on the basis of the motivating analysis with regard to the recognition of self-control and self-regulation skills in pre-school age, it is possible to disregard the importance of recognising and conceiving the differentiation between self-regulation concepts and self-control, while from their uniqueness they manage to establish important tools from the earliest years of life in order to cognitively achieve a mastery in achieving goals and adapting to the environment; aspects that contribute to learning.
References
Rosselli, M. Maduración cerebral y desarrollo cognoscitivo. Revista Latinoamericana de Ciencias Sociales, Niñez y Juventud, 2033 1(1). [fecha de Consulta 2 de Enero de 2022]. ISSN: 1692-715X. Disponible en: https://www.redalyc.org/articulo.oa?id=77310104
Canet-Juric L, Introzzi I, Andrés, ML, Stelzer F. La contribución de las funciones ejecutivas a la autorregulación. Cuadernos de Neuropsicología/Panamerican Journal of Neuropsychology. 2016; 10(2).
Fernandes-Sisto F, Marín-Rueda, FJ y Urquijo S. Relación entre los constructos autocontrol y autoconcepto en niños y jóvenes. Liberabit. 2010; 16(2), 217-226. Recuperado en 24 de octubre de 2021, de http://www.scielo.org.pe/scielo.php?script=sci_arttext&pid=S1729-48272010000200011&lng=es&tlng=es.
Skinner BF. Ciencia y conducta humana. Barcelona: Fontanella, 1953/1971.
Bandura A. Vicarious and self-reinforcement process. Em R. Glaser (Org.). The nature of reinforcement. New York; Academic Press 1971.
Bandura A. Self reinforcement: theoretical and methodological considerations. Behaviorism. 1976; 4, 135-155.
Bandura A. The self system in reciprocal determinism. American Psychologist. 1978; 33, 344-358.
Kanfer FM. The maintenance of behavior by selfgenerated stimuli and reinforcement. En A. Jacobs & L. B. Sacha (Orgs.) The psychology of private events. New York: Academic Press, 1971.
Kanfer FM. The many faces of self-control, or behavior modification changes its focus. En R. B. Stuart (Org.). Behavioral self-management. Strategie: Techniques and Outcomes. 1977; New York: Brunner/Mazel.
Kanfer FH, Karoly P. Self-control: A behavioristic excursion into the lion's den. Behavior Therapy. 1972; 3, 398–416.
Thoresen CE, Mahoney MJ. Conducta y autocontrol. Madrid: Morata, 1974.
Mischel W, Patterson C J. Effective plans for selfcontrol in children. En W. A. Collins (Org.). Minnesota Symposiumon Child Psychology. Hillsdale, N.J: Erlbaum, 1978.
Luria DM. The role of speech in the regulation of normal and abnormal behavior. New York: Liveright, 1961.
Vygotsky LS. Thought and Language. Cambridge: MIT Press, 1962.
Meichenbaum, D. Teaching children self-control. En B. Lahey & A. Kazdin (Orgs.). Advances in child clinical psychology. New York: Plenum, 1978.
Harter. Developmental perspectives on the self-steen. En P. H. Mussem (Org.). Handbook of Child Psychology. New York: Academic Press, 1983.
Premack D & Anglin B. On the possibilities of selfcontrol in man and animals. Journal of abnormal psychology. 1973; 81, 137-151.
Shibutani T. Society and personality. Englewood Cliffs: Prentice-Hall, 1961.
Block, J. H. Parental Agreement-Disagreement on ChildRearing Orientations and Gender-Related Personality Correlates in Children. Child Development. 1981; 52(3), 965-974.
Ogata, S. Human EEG responses to classical music and simulated white noise: effects of a musical loudness component on consciousness. Perceptual & Motor Skills. 1995; 80, 779-790.
Charney, R. Teaching Children to Care: Management in the Responsive Classroom. Greenfield Mass: Northeast Foundation for Children, 1993.
Hascher T & Oser F. Taking responsibility at work Correlating interactions between self-efficacy beliefs and apprentices' attitudes towards responsibility. Freiburg: Berichte zur Erziehungswissenschaft, 1995.
Risemberg R & Zimmerman B. Self-Regulated Learning in Gifted Students. Review. 1992; 15(2), 98-101.
Ruiz Martín H. ¿Cómo aprendemos?: una aproximación científica al aprendizaje y la enseñanza. (Vol. 1). Graó, 2020.
González – Larrea B. Autocontrol y su relación con el aprendizaje. Revista virtual Neuroclass, Desarrollo y Educación. 2021; Disponible en: https://neuro-class.com/autocontrol-emociones-aprendizaje/
Morin A. Problemas con la autorregulación: Lo que necesita saber [Internet]. 7. Santiago de Chile: CERIL; 2021 [Consultada 17 de noviembre de 2021]. Disponible en: http://ceril.net/index.php/articulos?id=232
Bandura A. Mecanismos autorreguladores. Pensamiento y acción: Fundamentos sociales. Barcelona: Ediciones Martínez Roca, 1987.
Pintrich PR, Schunk DH & Luque ML. Motivación en contextos educativos: teoría, investigación y aplicaciones. Madrid: Pearson Educación, 2006.
Panadero E & Alonso-Tapia J. ¿Cómo autorregulan nuestros alumnos? Modelo de Zimmerman sobre estrategias de aprendizaje. Anales de Psicología / Annals of Psychology. 2014; 30(2), 450–462. https://doi.org/10.6018/analesps.30.2.16722
Zimmerman BJ & Schunk DH. Self-regulated learning and performance. An introduction and overview, 1-12. Handbook of self-regulation of learning and perform, 2011.
Zimmerman BJ. Attaining self-regulation: A social cognitive perspective, en Handbook of Self-regulation, 1ª edición, Elsevier Academic Press, pp13-39, San Diego CA, USA (2000).
Gross, R. Psychology: The Science of Mind and Behaviour 6th Edition (en inglés). Hodder Education, 2012. ISBN 978-1-4441-6436-7.
Ato Lozano E, González Salinas MDC y Carranza Carnicero JA. Aspectos evolutivos de la autorregulación emocional en la infancia. Anales de psicología. 2004; 20(1), 69-79.
Martínez AC & Bouquet RI. Tristeza, depresión y estrategias de autorregulación en niños. Tesis Psicológica. 2007; (2), 35-47.
Berk L. El papel del juego dramático en el desarrollo de la autorregulación. Enciclopedia sobre el desarrollo de la primera infancia. 2018; 1-6. Disponible en: https://www.enciclopedia-infantes.com/sites/default/files/textes-experts/es/5033/el-papel-del-juego-dramatico-en-el-desarrollo-de-la-autorregulacion.pdf
Piaget J. Play, Dreams and Imitation in Childhood. London: Heinemann, 1951.
Vygotsky LS. El papel del juego en el desarrollo del niño. En el desarrollo de los procesos psicológicos superiores. Barcelona: Grijalbo, 1966.
Huizinga J. Homo Ludens. London: Routledge and Kegan Paul Ltd, 1949.
Ferrer T. Métodos de enseñanza comunicativos: El juego como estrategia didáctica en la instrucción del español como segunda lengua. Revista Lúdicamente. 2015; Vol. 4, N°8.
Schore AN. The experience-dependent maturation of a regulatory system in the orbital prefrontal cortex and the origin of developmental psychopathology. Developmentand Psychopathology. 1996; 8(1), 59-87.
Bell MA, Calkins SD & Posner MI. Attentional control and emotion regulation in early development. Cognitive neuroscience of attention. 2012; 2, 322-330.
Cox MJ, Mills-Koonce R, Propper C & Gariépy JL. Systems theory and cascades in developmental psychopathology. Development and Psychopathology. 2010; 22(3), 497-506.
Nigg JT. Annual Research Review: On the relations among self‐regulation, self‐control, executive functioning, effortful control, cognitive control, impulsivity, risk‐taking, and inhibition for developmental psychopathology. Journal of child psychology and psychiatry. 2017; 58(4), 361-383.
Eisenberg N, Zhou Q. Conceptions of executive function and regulation: When and to what degree do they overlap?. In J. A. Griffin, P. McCardle, & L. S. Freund (Eds.), Executive function in preschool-age children: Integrating measurement, neurodevelopment, and translational research (pp. 115–136). 2016. American Psychological Association. https://doi.org/10.1037/14797-0062016.
Goleman D. Emotional Intelligence. New York: Bantam Books. (Trad. Cast. Kairós,1996). 1995.
Goldberg E. El cerebro ejecutivo. Barcelona: Crítica Drakontos, 2002.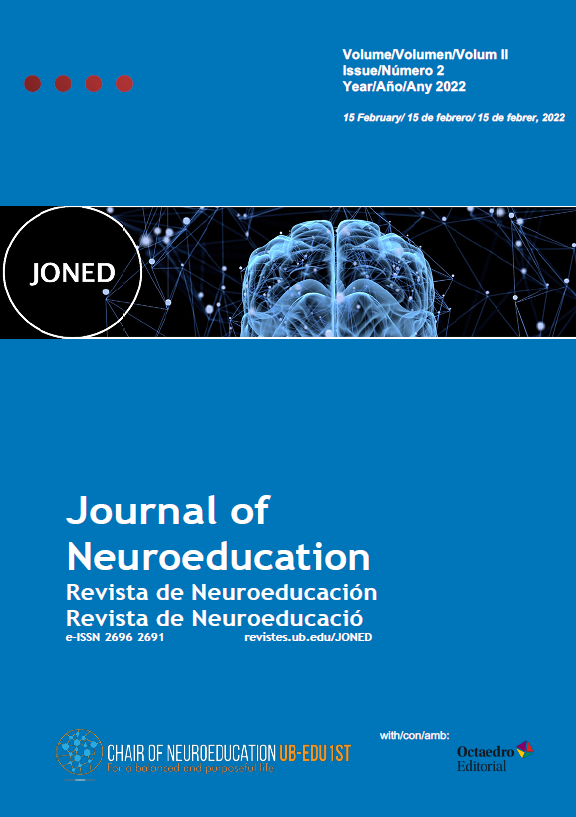 Downloads
Published
2022-03-17 — Updated on 2022-04-11
Section
Neuroeducational Research
License
Copyright (c) 2022 Sandra Milena Restrepo Escobar, Jessica Quintero Gil, Paola Andrea Álvarez Pèrez
This work is licensed under a Creative Commons Attribution-NonCommercial 4.0 International License.

The authors who publish in this journal agree to the following terms:
a. Authors retain copyright and grant the journal the right of first publication
b. Texts will be published under a Creative Commons Attribution Non Commercial License that allows others to share the work, provided they include an acknowledgement of the work's authorship, its initial publication in this journal and the terms of the license, and not for commercial use.