Hablando de neuroeducación: avances y desafíos en Uruguay
Neuroeducación en Uruguay
Keywords:
neuroeducation, neurosciences, learning disabilities
Abstract
Developments in neuroeducation in Uruguay have been given by the education professionals in learning difficulties as well as by neuropsychology and cognitive science contributions, mainly at university centers. In the 60´s research findings in neurology, neuropsychology and cognitive sciences as a whole, were incorporated into dyslexia studies. These studies have resulted in the development of assessment techniques, intervention programmes and stimulus to its educational use, which continue to incorporate data and evidence from neuroeducation to schools. However, some challenges have been spotted for a better and larger understanding and integration of these neuroeducational studies to teaching practices in order to facilitate and better the learning processes. 
References
Spitzer M. Lernen, Heildeberg: Elsevier. 2002. [Trad. esp Aprendizaje. Neurociencia y la escuela de la vida. Barcelona: Omega, 2005].
Draganski B, Gaser C, Busch V, Schuierer G, Bogdahn U, May A. Neuroplasticity: changes un grey matter induced by training. Nature. 2004; 427, 311-312.
Woollett K, Maguire E. Acquiring "the Knowledge" of London´s layout Drives Structural Brain Changes. Current Biology 2011, 21 (24), 2109-2114.
Bhawna S, Anshu Y. Impact of intervention on children with learning disabilities. IOSR Journal of humanities and Social Science. 2013; 11 (1), 50-56.
Gebauer D, Fink A, Kargl R, Reishofer G, Koschutnig K, Purgstaller C, Fazekas F, Enzinger C. Differences in Brain Function and Changes with Intervention in Children with poor spelling and reading abilities. PLOS One. 2012; 7 (5), 1-9.
Luculano T, Rosenberg-Lee M, Richardson J, Tenison C, Fuchs L, Supekar K, Menon V. Cognitive tutoring induces widespread neuroplasticity and remediates brain function in children wirh mathematical learning disabilities.Nature Communications. 2015; 6, 8453, 1-10.
Simos P, Fletcher JM, Sarkari S, Billingsley-Marshall R, Denton CA, Papanicolau AC. Intensive instruction affects brain magnetic activity associated with oral word reading in children with persistent reading disabilities. Journal of learning Disabilities. 2007; 40 (1), 37-48.
Cuadro A, Ruiz C. El aprendizaje humano. En Barg G, Cuadro A, Hoyos S. Neurocognición y Aprendizaje. Montevideo. Grupo Magro; 2019.
Abusamra, V. y Ferrere, A,). Neurociencias y Educación. Montevideo: Paidós; 2016.
OECD. Understanding the Brain: Towards a New Learning Science. Paris: OECD Publications; 2002.
Howard-Jones P. Introducing Neuroeducational Research. Neuroscience, education and the brain from context to practice. Londres: Routledg; 2010.
Campbell S. Educational Neuroscience: Motivations, methodology, and implications. Educational Philosophy and Theory.2011; 43:1, 7 16, DOI: 10.1111/j.1469-5812.2010.00701.x
Fischer K W, Daniel D B, Immordino-Yang M H, Stern E, Battro A, Koizumi, H. Why Mind, Brain, and Education? Why Now?. Mind Brain and Education.2007, 1, pp. 1-2.
Jensen, E. Cerebro y aprendizaje, competencias e implicaciones educativas. Madrid: Narcea; 2010.
Bravo-Valdivieso L, Milicic-Müller N, Cuadro A, Mejía L, Eslava J. Trastornos del aprendizaje: investigaciones psicológicas y psicopedagógicas en diversos países de Sudamérica. Ciencias Psicológicas. 2009; Vol. 3 (2).
Bauza C, Carbonell de Grompone M, Drets, M, Escuder E. La dislexia de evolución: estudio de 35 casos personales. Archivo de pediatría del Uruguay. 1962; 34: 43-53, 112-123.
Carbonell de Grompone M, Álvarez de Guadalupe E, Della Cella M, Tuana, E. Actas y trabajos del I Seminario sobre Dislexia. Sociedad de Dislexia del Uruguay. 1965.
Bay de Escobar M. Posibilidades de un despistaje de predisléxicos en clases de jardinera y jardines de infantes. Boletín del Instituto Interamericano del Niño.1965; julio: 497-502.
Louzan M. Diagnóstico Global del retardo en lectura. Boletín del IIN. Montevideo, Uruguay. 1965; Nº 155,. 776-78
Tuana E. Concepto de Lectura: Niveles de Lectura en la Enseñanza Primaria, Secundaria y Superior. Actas y trabajos del Seminario sobre Dislexia en Uruguay 1965; 144 – 158.
Tuana E. Dificultades en el aprendizaje de la lectura y escritura. Boletín de la Inspección Nacional de Escuelas de Práctica. Montevideo.1967; 11, Nº 21,.1 – 12.21. 22.Boder E. Developmental dyslexia: A diagnostic approach based on three typical reading-spelling patterns. Developmental Medicine and Child Neurology.1973; 15, 663-687. doi:10.1111/j.1469-8749. 1973.tb 05180.x
Rebollo M.A. Dificultades del Aprendizaje, Montevideo: Prensa Médica Latinoamericana; 2004.
Santini de Souto H. Tipos de dislexia. Neuropediatría Latinoamericana. 1977; 2, 41-48.
Marpeu, G. Problemas diagnosticados en niños con dificultades en lectoescritura, Revista Anales de Neuropediatría Latinoamericana, Montevideo. 1996; 14, 3, 73 – 80.
Cibils D. Variaciones topográficas en la actividad alfa durante pruebas de lectoescritura en niños normales y en disléxicos, en Revista Anales de Neuropediatría Latinoamericana. 1994; 4, 2, 33-36.
Carbonell de Grompone M. Colonianismo y dislexia. En El lenguaje lectoescrito y sus problemas. Montevideo: Médica Panamericana; 2000.
Zubiarre M, Rodríguez L. La comunicación escrita en el niño disléxico. Revista APPIA. 1979; Vol. 6, Fasc. 1-2, pp.153-
Gabay Salinas R. Dislexia, Psiconálisis y Familia. Montevideo. ACUPS; 2000
.Dansilio S. La Neuropsicología en Uruguay. Revista Neuropsicología, Neuropsiquiatría y Neurociencia. 2009; Vol. 9 (2), 105-112.
Koleszar, V, de León, D, Díaz-Simón, N, Fitipalde, D, Cervieri, I, Maiche, A. Numerical Cognition in Uruguay: from clinics and laboratories to the classroom (Cognición numérica en Uruguay: de la clínica y los laboratorios al aula). Studies in Psychology. 2020; 1-25.
Cuadro A, Costa D. Test de Eficacia Lectora (TECLE) de J. Marin y M. Carrillo. Montevideo: Grupo Magro; 2020.
Cuadro A , Palombo A, Costa D, von Hagen A. Test de Eficacia Orográfica (TEO). Montevideo: Grupo Magro; 2014.
Cuadro, A, Marín, J. Subtipos de lectores retrasados en español. Ciencias Psicológicas.2007; I (2), 133-148.
Cuadro A, Mailhos A, Estevan I, Martínez Sánchez, F. Reading Competency, Speech Rate and Rhythm. Psicothema.2021; 33 2, 222 – 227.
Cuadro A, von Haguen A, Costa D. Procedural differences in the calculation ofthe prevalence of reading delay in Spanish-speaking school children Estudios de Psicología. 2017; 38 1 , 169 – 197.
Palombo A, Cuadro A. The incidence of visual-motor processes in the acquisition of orthographic representations in Spanishspeaking schoolchildren (Estudios de Psicología. 2020; 10 – 20.
González M, Kittredge, ., Sánchez, I, Fleischer, B, Spelke, E, Maiche, A. (2016).Card games: A way to improve math skills through stimulating ANS. Neuro Educação, . 2016; 34–36.
Singer, V., Cuadro, A. y Costa, D. Test Eficacia del Cálculo (TECA). Montevideo:Grupo Magro; 2104.
Vásquez-Echeverría A). El Inventario de Desarrollo Infantil y la evaluación sistemática del desarrollo en contextos educativos. Teoría, creación e implementación; 2020. https://doi.org/10.31234/osf.io/xg2h
Palombo A, Cuadro A. Mejora de los Aprendizaje Básicos e Instrumentales (MABI) Montevideo. Grupo Magro; 2020.
Koleszar V, de León D, Díaz-Simó, N, Fitipalde,D, Cervieri I, Maiche A. Numerical Cognition in Uruguay: from clinics and laboratories to the classroom (Cognición numérica en Uruguay: de la clínica y los laboratorios al aula). Studies in Psychology. 2020; 1-25.
Langfus J, Maiche A, De León D, Fitipalde D, Mailhos A, Halberda J. The Effects of SES, Grade-Repeating, and IQ in a Game-Based Approximate Math Intervention. Cognitive Foundations for Improving Mathematical Learning. 2019; 37–67. doi:10.1016/b978-0-12-815952-1.00002-5.
Cuadro, A. y Castro, C. Ayudando a Futuros Lectores. Montevideo: Grupo Magro;2020.
Cuadro A, Palombo A, de León F, Ruiz C, Menéndez A. Método Sophía. Iniciación al aprendizaje del Lenguaje escrito. Montevideo: UCU; 2019.
Cuadro A, Palombo A, Ruiz C. Method for Developing an International Curriculum and Assessment Framework for Reading. IBE UNESCO; 2018. Disponible en: http://inprogressreflections.ibe-unesco.org/wp-content/uploads/2018/03/Reading_Global_Framework_methodological_paper-1.pdf
Valle Lisboa J, Mailhos A, Eisenger R, Halberda J, González M, Luzardo M, Maiche, A. Estimulación Cognitiva a escala Poblacional utilizando Tablets: del sistema numérico aproximado (ANS) a la matemática simbólica. 2017; 147-172. En Pensar las TIC desde la ciencia cognitiva y la neurociencia. Montevideo: Gedisa Editorial; http://www.gedisa.com/gacetillas/232001.pdf
Plan Ceibal https://www.ceibal.edu.uy/es
Anderson T, Dron, J. Learning through three generation of technology enhanced distance education pedagogy. European Journal of Open, Distance and e-learning. 2012; 2, 1-14.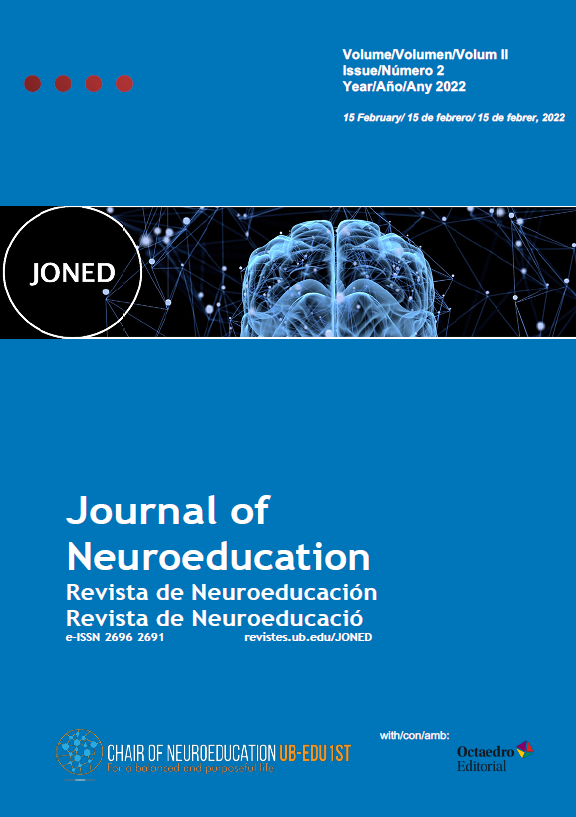 Downloads
Published
2022-03-17 — Updated on 2022-04-11
Section
Experiences & Perspectives
License
Copyright (c) 2022 Ariel Cuadro
This work is licensed under a Creative Commons Attribution-NonCommercial 4.0 International License.

The authors who publish in this journal agree to the following terms:
a. Authors retain copyright and grant the journal the right of first publication
b. Texts will be published under a Creative Commons Attribution Non Commercial License that allows others to share the work, provided they include an acknowledgement of the work's authorship, its initial publication in this journal and the terms of the license, and not for commercial use.