The essential elements of education: a humanistic view of neuroeducation
References
Marina JA, Rambaud J. Biografía de la humanidad: Historia de la evolución de las culturas. 2.a ed.: Ariel; 2018.
Marina JA. Historia visual de la inteligencia: De los orígenes de la humanidad a la Inteligencia Artificial: Conecta; 2019.
Marina JA. Teoría de la inteligencia creadora. Barcelona: Anagrama; 1993.
Kahneman D. Pensar rápido, pensar despacio: Debate; 2012.
Blair C. School readiness: Integrating cognition and emotion in a neurobiological conceptualization of children's functioning at school entry. American psychologist. 2002;57(2): 111-127. https://doi.org/10.1037//0003-066x.57.2.111.
Blair C, Razza RP. Relating effortful control, executive function, and false belief understanding to emerging math and literacy ability in kindergarten. Child development. 2007;78(2): 647–663. https://doi.org/10.1111/j.1467-8624.2007.01019.x
Normandeau S, Guay F. Preschool behavior and first-grade school achievement: The mediational role of cognitive self-control. Journal of Educational Psychology. 1998;90(1):111-121. https://doi.org/10.1037/0022-0663.90.1.111
Marina JA. Biografía de la inhumanidad. Historia de la crueldad, la sinrazón y la insensibilidad humanas. 1.a ed.: Ariel; 2021.
Tomasello M. Los orígenes de la comunicación humana: Katz Editores; 2013.
Wilson EO. El sentido de la existencia humana: Editorial Gedisa; 2016.
Marina JA. El proyecto Centauro: La nueva frontera educativa: Un modelo para los próximos 30 años. 1.a ed.: Khaf (Edelvives); 2020.
Luri G. La escuela no es un parque de atracciones: Ariel; 2020.
Marina JA. Las culturas fracasadas: Anagrama; 2010.
Marina JA. Art El Panóptico, Número 21 [Internet] 2021. Disponible en: https://www.joseantoniomarina.net/categoria-blog/revista-el-panoptico/numero-21/capital-social/.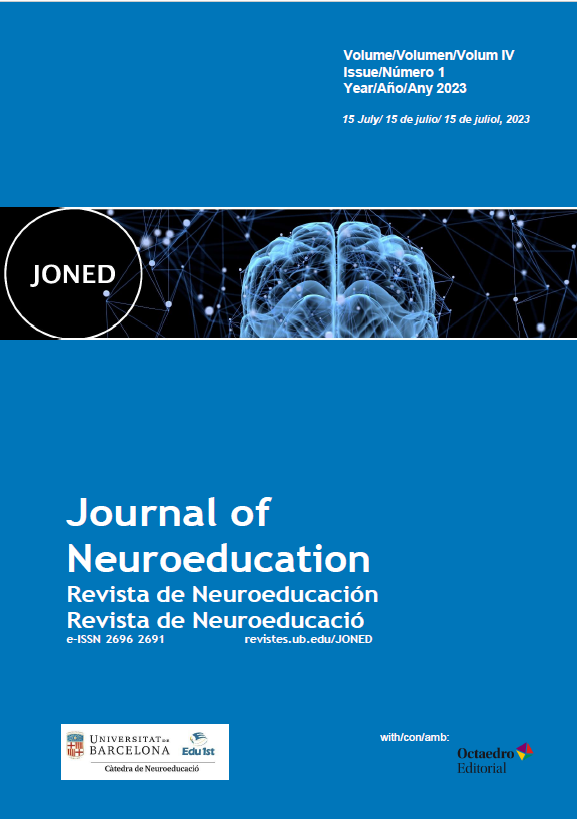 Downloads
License
Copyright (c) 2023 Antoni Santandreu Mayol, José Ramón Gamo
This work is licensed under a Creative Commons Attribution-NonCommercial 4.0 International License.

The authors who publish in this journal agree to the following terms:
a. Authors retain copyright and grant the journal the right of first publication
b. Texts will be published under a Creative Commons Attribution Non Commercial License that allows others to share the work, provided they include an acknowledgement of the work's authorship, its initial publication in this journal and the terms of the license, and not for commercial use.