Adornando el cuerpo femenino: objetos de moda y género en "La de Bringas" (1884) de Benito Pérez Galdós
Paraules clau:
objetos, moda, modernidad, género, Pérez Galdós, literatura española decimonónica
Resum
El presente artículo explora la relevancia sociocultural que adquieren los objetos de vestir femeninos en La de Bringas (1884) de Benito Pérez Galdós. Las prendas en la novela conforman un espacio discursivo a partir del cual es posible aproximarse desde una lente crítica a la compleja relación que la mujer estableció con el proyecto decimonónico de la modernidad. A través de su interacción con artículos de moda, la protagonista Rosalía de Bringas forja una identidad moderna, evadiéndose de los límites domésticos marcados por la estructura patriarcal y rebasando el arraigado modelo de "ángel del hogar". Asimismo, este artículo analiza la emergencia de espacios urbanos que, como el comercio Sobrino Hermanos retratado en La de Bringas, favorecieron el ingreso de la mujer en la esfera pública de la segunda mitad del XIX.
Referències
Aldaraca, Bridget A. (1991), El Ángel del Hogar: Galdós and the Ideology of Domesticity in Spain, Chapel Hill, University of North Carolina Press.
Appadurai, Arjun (1988), "Introduction: Commodities and the Politics of Value", The Social Life of Things: Commodities in a Cultural Perspective, Arjun Appadurai (ed.), Cambridge, Cambridge UP: 3-63.
Baudelaire, Charles (1964), The Painter of Modern Life and Other Essays, Jonathan Mayne (trad.), Nueva York, Phaidon. [1863]
Beaujout, Ariel (2011), Victorian Fashion Accessories, Oxford, Berg Publishers.
Benjamin, Walter (1999), The Arcades Project, Howard Eiland y Kevin McLaughlin (trads.), Cambridge, Harvard UP. [1982]
Bernstein, Susan David (1994), "Dirty Reading: Sensation Fiction, Women, and Primitivism", Criticism, 36 (2): 213-241.
Blanco Carpintero, Marta (2010), La indumentaria femenina burguesa y el fenómeno de la moda en las novelas de Galdós: de Doña Perfecta a Miau, Tesis doctoral, Madrid, Universidad Complutense de Madrid, 20/12/2010. <https://ucm.on.worldcat.org/oclc/1025617806>
Breward, Cristopher (1999), The Hidden Consumer: Masculinities, Fashion and City Life, 1860-1914, Manchester, Manchester UP.
De Marly, Diana (1990), Worth: Father of Haute Couture, Teaneck, Holmes & Meier Publishers.
Díaz Marcos, Ana María (2006), La edad de seda: representaciones de la moda en la literatura española (1782-1926), Cádiz, Universidad de Cádiz.
Entwistle, Joanne (2000), The Fashioned Body: Fashion, Dress and Modern Social Theory, Cambridge, Polity Press.
Felski, Rita (1995), The Gender of Modernity, Cambridge & Londres, Harvard UP.
Fernández, Pura, Luisa Elena Delgado y Jo Labanyi (2015), "Introduction", Engaging the Emotions in Spanish Culture and History, Pura Fernández, Luisa Elena Delgado y Jo Labanyi (eds.), Nashville, Vanderbilt UP: 1-20.
Fernández Cifuentes, Luis y Roxana Pagés Rangel (2005), "La de Bringas: metrópoli, moda, identidad", Studies in Honor of Denah Lida, May G. Berg y Lanin A. Gyurko (eds.), Potomac, Scripta Humanistica: 163-177.
Flaubert, Gustave (2016), Madame Bovary, Juan Bravo Castillo (trad.), Barcelona, Austral Singular. [1856]
Flügel, John Carl (1930), The Psychology of Clothes, Londres, Hogarth Press.
Germann, Jennifer G. y Heidi Strobel (2006), Materializing Gender in Eighteenth-Century Europe, Burlington, Ashgate.
Gilloch, Graeme (1988), Myth and Metropolis. Walter Benjamin and the City, Cambridge, Polity Press.
Goggin, Maureen Doli y Beth Fowkes Tobin (2009), Material Women, 1750-1950. Consuming Desires and Collecting Practices, Burlington, Ashgate.
Gutiérrez García, María Ángeles (2005), "Un mundo burgués y la moda en la obra de Benito Pérez Galdós", De crinolinas y polisones, Murcia, Museo de Bellas Artes de Murcia: 8-41.
Heneghan, Dorota (2015), Striking their Modern Pose. Fashion, Gender, and Modernity in Galdós, Pardo Bazán, and Picón, West Lafayette, Purdue UP.
Hiner, Susan (2010), Accessories to Modernity: Fashion and the Feminine in Nineteenth-Century France, Filadelfia, University of Pennsylvania Press.
Joseph, Abigail (2012), Queer Things. Victorian Objects and the Fashioning of Homosexuality, Tesis doctoral, Nueva York, Columbia University. <https://doi.org/10.7916/D87P95GV>
Labanyi, Jo (2010), "Doing Things: Emotion, Affect, and Materiality", Journal of Spanish Cultural Studies, 11 (3/4): 223-233.
Lancaster, Bill (1995), The Department Store: A Social History, Londres, Leicester UP.
Laver, James (1945), Taste and Fashion. From the French Revolution to the Present Day, Londres, Harrap and Company.
Merish, Lori (2000), Sentimental Materialism: Gender, Commodity Culture, and Nineteenth-Century American Literature, Durham, Duke UP.
Miller, Michael B. (1981), The Bon Marché: Bourgeois Culture and the Department Store, 1869-1920, Princeton, Princeton UP.
Parkins, Wendy (ed.) (2002), Fashioning the Body Politic. Dress, Gender, Citizenship, Nueva York, Berg.
Pérez Galdós, Benito (2004), La de Bringas, Alda Blanco y Carlos Blanco Aguinaga (eds.), Madrid, Cátedra. [1884]
—(2018), La desheredada, Salamanca, Editorial Anaya. [1881]
Perrot, Philippe (1994), Fashioning the Bourgeoisie: A History of Clothing in the Nineteenth Century, Princeton, Princeton UP.
Rodríguez, Rodney T. (1985), "El trasfondo económico y moral de La de Bringas", Letras de Deusto, 15 (33): 165-173.
Slater, Don (1997), Consumer Culture and Modernity, Cambridge, Polity Press.
Soldevila, Carlos (1950), La moda ochocentista, Barcelona, Argos.

Steele, Valerie (1988), Paris Fashion: A Cultural History, Oxford, Oxford UP.

Tilley, Christopher (2006), "Introduction: Theoretical Perspectives", Handbook of Material Culture, Cristopher Tilley et al. (eds.), Londres, SAGE: 7-12.
Tsuchiya, Akiko (1993), "The Construction of the Female Body in Galdós's La de Bringas", Romance Quarterly, 40: 35-47.
Tubert, Silvia (1997), "Rosalía de Bringas: el erotismo de los trapos", Bulletin of Hispanic Studies, 74 (4): 371-387.
Valis, Noël (2003), The Culture of Cursilería. Bad Taste, Kitsch, and Class in Modern Spain, Durham, Duke UP.
Wilson, Elizabeth (1987), Adorned in Dreams: Fashion and Modernity, Berkeley, University of California Press.
Zola, Émile (2013), El paraíso de las damas, María Teresa Gallego Urrutia y Amaya García (trads.), Barcelona, Alba Editorial. [1883]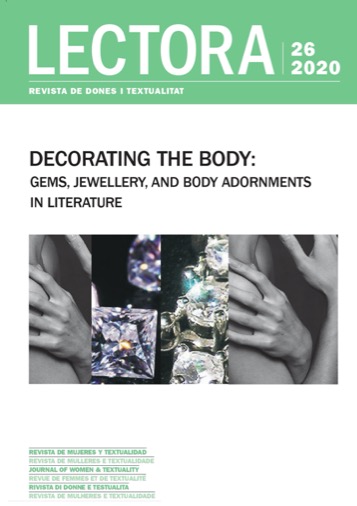 Descàrregues
Com citar
[1]
Corujo Martín, I. 2020. Adornando el cuerpo femenino: objetos de moda y género en "La de Bringas" (1884) de Benito Pérez Galdós. Lectora: revista de dones i textualitat. 26 (Oct. 2020), 67–81. DOI:https://doi.org/10.1344/Lectora2020.26.5.
Llicència
Els autors i les autores conserven els drets d'autoria i atorguen a Lectora: revista de dones i textualitat el dret exclusiu de difusió, durant un any des de la publicació a la revista, a partir del qual l'obra serà disponible simultàniament sota una Llicència de Reconeixement-NoComercial- SenseObraDerivada de Creative Commons que, si no si indica el contari, permet compartir l'obra amb tercers, sempre que aquests en reconeguin l'autoria i la publicació inicial en aquesta revista.

Els autors i autores són lliures de fer acords contractualsaddicionals independents per a la distribució no exclusiva de la versió de l'obra publicada a la revista (com ara la publicació en un repositori institucional o en un llibre), sempre que se'n reconegui la publicació inicial en aquesta revista, un cop transcorregut un any des de la seva aparició.

S'encoratja els autors i autores a reproduir la seva obra en línia (en repositoris institucionals, temàtics o a la seva pàgina web, per exemple) passat el període de difusió en exclusivitat a la revista, amb l'objectiu d'aconseguir intercanvis productius i fer que l'obra obtingui més citacions (vegeu The Effect of Open Access, en anglès).