La maternidad a través de la literatura italiana contemporánea: breves consideraciones acerca de la ciencia y la generación de la vida
Paraules clau:
maternidad, ciencia, reproducción asistida, gestación subrogada
Resum
En este estudio nos proponemos hacer una revisión de la representación literaria de la maternidad y la figura de la madre en el contexto italiano. En concreto, nos detendremos en el análisis de dos obras, Le difettose (2012), de Eleonora Mazzoni, y Non mi vendere, mamma! (2016), de Barbara Alberti, por la perspectiva novedosa que aportan sobre el tema: desde una narrativa matrifocal, ambas escritoras describen la experiencia de convertirse en madre sometiéndose a numerosos tratamientos y técnicas médicas, con distintas consecuencias físicas y emocionales para la mujer.
Referències
Alberti, Barbara (2016a), Non mi vendere, mamma!, Roma, Nottetempo.

—(2016b), "Unire l'utero al profittevole. Por Barbara Tommasino", Dagospia.com, 02/12/2016. ˂https://m.dagospia.com/unire-l-utero-al-profittevole-barbara-alberti-la-maternita-surrogata-e-puro-sfruttamento-136918˃
—(2017), "Barbara Alberti: vi racconto una maternità eversiva", Cavevisioni, 10/01/2017. ˂http://cavevisioni.it/barbara-alberti-lutero-non-puo-forno-dei- ricchi/˃
Allegrini, Alessandra (2016), "Maternità surrogata e tecnoscienza. Alcune riflessioni a partire dal libro di Luisa Muraro, L'anima del corpo. Contro l'utero in affitto", Diotima, 14: 1- 6.
Arriaga Flórez, Mercedes (2017), "Alda Merini: 'Le madri non vanno in Paradiso'", Nei cielo di carta. Studi per Ettore Catalano, Bari, Progedit.
Belli, Laura (2013), "La violencia obstétrica: otra forma de violación a los derechos humanos", UNESCO/Revista Redbioética, 1 (7): 25-34.
Benedetti, Laura (2007), The Tigress in the Snow. Motherhood and Literature in Twentieth-Century Italy, Toronto, Toronto UP.
Botti, Caterina (2007), Madri cattive. Una riflessione su bioetica e gravidanza, Milán, Il Saggiatore.
Cerrato, Daniele (2018), "Matriosche: nonne, madri e nipoti. Tre esempi di genealogie femminili nella letteratura italiana del Novecento", Studia Romanica Posnaniensia, 45 (3): 73-81.
Chemotti, Saveria (2009), L'inchiostro bianco. Madri e figlie nella narrativa italiana contemporanea, Padua, Il Poligrafo.
Corn, Emanuele (2015), "La reproducción humana asistida en Italia. Presente y futuro después de la derogación de la prohibición de fecundación heteróloga", Revista bioética y derecho, 35: 18-31.
Daly, Brenda y Maureen Reddy (1991), Narrating Mothers: Theorizing Maternal Subjectivities, Knoxville, The University of Tennessee Press.
Giorgio, Adalgisa (2002), "The Passion for The Mother: Conflicts and Idealisations in Contemporary Italian Narrative by Women", Writing Mothers and Daughters. Renegotiating the Mother in Western European Narratives by Women, Adalgisa Giorgio (ed.), Nueva York, Berghahn: 119-154.
Hirsch, Marianne (1989), The Mother/Daughter Plot: Narrative, Psychoanalysis, Feminism, Bloomington & Indianapolis, Indiana UP.
Lazzari, Laura (2016), "Quando la scienza fallisce: maternità negata e ridefinizione della 'normalità'", Intervalla, 1: 61-73.
Mazzoni, Eleonora (2012a), Le difettose, Turín, Einaudi.

—(2012b), "Intervista a Eleonora Mazzoni. Por Emanuela Valente", Mangialibri, 05/09/2012. ˂http://www.mangialibri.com/interviste/intervista-eleonora-mazzo ni˃
Muraro, Luisa (1994), El orden simbólico de la madre, Madrid, horas y HORAS.
—(2016), L'anima del corpo. Contro l'utero in affitto, Milán, Editrice La Scuola.
O'Reilly, Andrea (2000), "'I come from a long line of Uppity Irate Black Women': African-American Feminist Thought on Motherhood, the Motherline, and the Mother-Daughter Relationship", Mothers and Daughters: Connection, Empowerment, and Transformation, Andrea O'Reilly y Sharon Abbey (eds.), Nueva York, Rowman & Littlefield Publishers.
O'Reilly, Andrea y Silvia Caporale Bizzini (2009), "Introduction", From the Personal to the Political: Toward a New Theory of Maternal Narrative, Andrea O'Reilly y Silvia Caporale Bizzini (eds.), Selinsgrove, Susquehanna UP: 9-31.
Rich, Adrienne (2019), Nacemos de mujer. La maternidad como experiencia e institución, Madrid, Traficantes de Sueños. [1976]
Sgorbati, Barbara (2016), "Maternità surrogata, dignità della donna e interesse del minore", BioLaw Journal-Rivista di BioDiritto, 2: 111-129.
Vegetti Finzi, Silvia (2017), "I figli del futuro. Cosa le biotecnologie faranno di noi?", Casa della cultura, 21/03/2017. ˂https://casadellacultura.it/551/i-figli-del- futuro>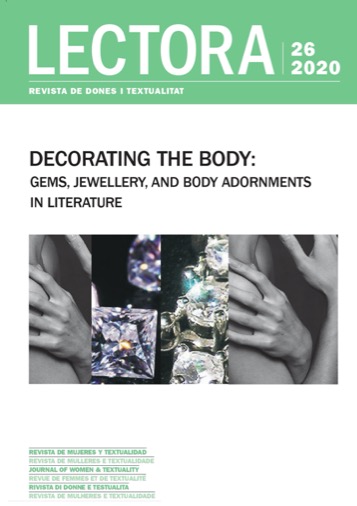 Descàrregues
Llicència
Els autors i les autores conserven els drets d'autoria i atorguen a Lectora: revista de dones i textualitat el dret exclusiu de difusió, durant un any des de la publicació a la revista, a partir del qual l'obra serà disponible simultàniament sota una Llicència de Reconeixement-NoComercial- SenseObraDerivada de Creative Commons que, si no si indica el contari, permet compartir l'obra amb tercers, sempre que aquests en reconeguin l'autoria i la publicació inicial en aquesta revista.

Els autors i autores són lliures de fer acords contractualsaddicionals independents per a la distribució no exclusiva de la versió de l'obra publicada a la revista (com ara la publicació en un repositori institucional o en un llibre), sempre que se'n reconegui la publicació inicial en aquesta revista, un cop transcorregut un any des de la seva aparició.

S'encoratja els autors i autores a reproduir la seva obra en línia (en repositoris institucionals, temàtics o a la seva pàgina web, per exemple) passat el període de difusió en exclusivitat a la revista, amb l'objectiu d'aconseguir intercanvis productius i fer que l'obra obtingui més citacions (vegeu The Effect of Open Access, en anglès).