Poems as Livable Worlds: A Conversation with Afshan D'souza-Lodhi and Jay Bernard
Referències
Ahmed, Sara (2015), The Cultural Politics of Emotion, New York, Routledge.
Anzaldúa, Gloria (1987), Borderlands/La Frontera, San Francisco, Aunt Lute Books.
Asghar, Fatimah and Safia Elhillo (eds.) (2019), Halal If You Hear Me: The BreakBeat Poets, Vol. 3, Chicago, Haymarket Books.
Bernard, Jay (2016), The Red and Yellow Nothing, London, Ink Sweat & Tears Press.
—(2019), Surge, London, Chatto & Windus.
Bernard, Jay and Ruth Bush (2016), Beacon of Hope: New Beacon in Poetry and Prose, London, New Beacon Books & George Padmore Institute.
Bryan, Beverley, Stella Dadzie and Suzanne Scafe (1985), Heart of The Race: Black Women's Lives in Britain, London, Virago Press.
Busby, Margaret (ed.) (1992), Daughters of Africa, New York, Ballantine Books.
—(ed.) (2019), New Daughters of Africa, Oxford, Amistad.

D'souza-Lodhi, Afshan (2019), "Hijabi (R)evolution", It's Not About the Burqa, Mariam Khan (ed.), London, Picador: 115-125.
—(2020), [re: desire], Portishead, Burning Eye Books.
El-Enany, Nadine (2017), "The Colonial Logic of Grenfell", Verso Books Blog, 03/07/2017. <https://www.versobooks.com/blogs/3306-the-colonial-logic-of-gre nfell>
—(2020), (B)ordering Britain: Law, Race and Empire, Manchester, Manchester UP.
Eltahawy, Mona (2019), "Too Loud, Swears Too Much and Goes Too Far", It's Not About the Burqa, Mariam Khan (ed.), London, Picador: 3-9.
Farge, Arlette (2013), The Allure of the Archives, New Haven & London, Yale UP. [1989]
Gentleman, Amelia (2019), The Windrush Betrayal: Exposing the Hostile Environment, London, Guardian Faber Publishing.
Khan, Mariam (ed.) (2019), It's Not About the Burqa, London, Picador.

Lowe, Adam (ed.) (2015), Spoke: New Queer Voices, Batley, Dog Horn Publishing.
Shukla, Nikesh (ed.) (2016), The Good Immigrant, London, Unbound.
Shukla, Nikesh and Chimene Suleyman (eds.) (2019), The Good Immigrant USA: 26 Writers Reflect on America, London, Dialogue Books.
Soto, Christopher (ed.) (2018), Nepantla: An Anthology for Queer Poets of Color, New York, Nightboat Books.
Walter, Aubrey (1987), Tongues Untied, London, Gay Men's Press.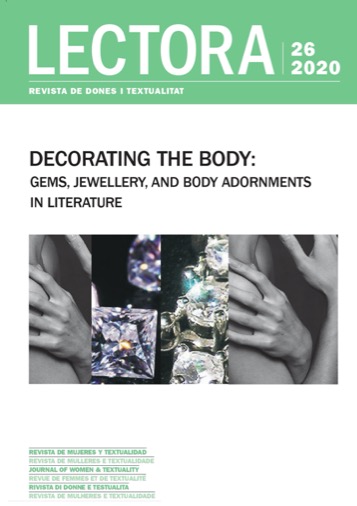 Descàrregues
Com citar
Alsina Rísquez, C., & Massana, E. (2020). Poems as Livable Worlds: A Conversation with Afshan D'souza-Lodhi and Jay Bernard. Lectora: Revista De Dones I Textualitat, (26), 223–246. https://doi.org/10.1344/Lectora2020.26.24
Llicència
Els autors i les autores conserven els drets d'autoria i atorguen a Lectora: revista de dones i textualitat el dret exclusiu de difusió, durant un any des de la publicació a la revista, a partir del qual l'obra serà disponible simultàniament sota una Llicència de Reconeixement-NoComercial- SenseObraDerivada de Creative Commons que, si no si indica el contari, permet compartir l'obra amb tercers, sempre que aquests en reconeguin l'autoria i la publicació inicial en aquesta revista.

Els autors i autores són lliures de fer acords contractualsaddicionals independents per a la distribució no exclusiva de la versió de l'obra publicada a la revista (com ara la publicació en un repositori institucional o en un llibre), sempre que se'n reconegui la publicació inicial en aquesta revista, un cop transcorregut un any des de la seva aparició.

S'encoratja els autors i autores a reproduir la seva obra en línia (en repositoris institucionals, temàtics o a la seva pàgina web, per exemple) passat el període de difusió en exclusivitat a la revista, amb l'objectiu d'aconseguir intercanvis productius i fer que l'obra obtingui més citacions (vegeu The Effect of Open Access, en anglès).