Street Escape at Colonia Güell: conceptualization, design and evaluation of a strategy for the mediation of cultural heritage
Keywords:
Colonia Güell, Evaluation, Gamification, Industrial Heritage, Street Escape, Tourist Mediation.
Abstract
In this project, a gamified mediation strategy is proposed for the enhancement of the industrial heritage of Colonia Güell through the Street Escape tool. The general objectives are the conceptualization and design of a mediation strategy and its subsequent evaluation, as well as the analysis of the results obtained. In order to achieve these objectives, an investigation was developed that has as key points the gamification in heritage spaces and the Escape Room tourism. The qualitative methodology used has been a case study that has had the techniques of participant observation and focus group to collect information and behaviors from the ten participants in the game. The Street Escape has been done with two groups, one representing the teenage public and the other representing the youth public, since the tourist and didactic offer of Colonia Güell is insufficient to respond to the needs of young public. Afterwards, the conceptualization, design and evaluation of the Street Escape in Colonia Güell has been carried out. Finally, the results obtained show that the creation of a gamified mediation strategy helps to bring industrial heritage closer to young people. 
References
Álvarez Areces, M. A. (2007). El Patrimonio industrial en España. Situación actual y perspectivas de actuación. Recuperado el 8 de Noviembre 2019 de Jornadas del Patrimonio Industrial y de la Obra Pública. http://www.patrimonioculturaldearagon.es/documents/10157/675f026a-1329-4dff-9542-ab001c451bef
Cambil, M. (2010). Las nuevas tecnologías y los itinerarios didácticos: el Museo de la Memoria de Granada. En II Congrés Internacional de Didáctiques. Recuperado el 24 de Enero de 2020 de http://dugi-doc.udg.edu/bitstream/handle/10256/2982/448.pdf?sequence=1
Colomo-Palacios, R. y Herranz, E (2012). La Gamificación como agente de cambio en la Ingeniería del Software. Revista de Procesos y Métricas, 9, 30-56.
Colonia Güell (n.d) Recuperado el 12 Noviembre 2019 de http://gaudicoloniaguell.org.
Dorling A., McCaffery F. (2012). The Gamification of SPICE. Software Process Improvement and Capability Determination, 290, 295-301.
Edwards, J. A. y Llurdés i Coit, J. C. (1996). Mines and quarries: industrial heritage tourism. Annals of Tourism Research, 23, 341-363
Falser, M. (2001). Industrial Heritage Analysis. Recuperado el 8 Noviembre 2019 de UNESCO World Heritage Centre:http://whc.unesco.org/archive/ind-study01.pdf
Fabra i Coats (n.d). Recuperado el 20 Enero 2020 de . https://www.barcelona.cat/fabraicoats/
Herranz, E., de Amescua Seco, A., Palacio, R. C. y Yilmaz, M. (2014). Gamification as a Disruptive Factor in Software Process Improvement Initiatives. Journal of Universal Computer Science, 20, 885-906.
Instituto del Patrimonio Cultural de España. (2011). Plan Nacional de Patrimonio Industrial. Recuperado el 8 Noviembre 2019 de http://ipce.mcu.es/pdfs/PN_PATRIMONIO_INDUSTRIAL.pdf
Kapp, K. M. (2012). The gamification of learning and instruction: Case-based methods and strategies for training and education. New York: Pfeiffer.
Kortabitarte, A.,Ibáñez-Etxeberria, A., Luna, U., Vicent, N., Gillate, I., Molero, B. y Kintana, J. (2017). Dimensiones para la evaluación de aprendizajes en APPs sobre patrimonio. Pulso. Revista de educación, 40, 17-33
López-Pernas, S., Gordillo, A., Barra, E., and Quemada, J. (2019). Examining the use of an educational escape room for teaching programming in a higher education setting. IEEE Access 7, pp.31723-31737.
Matadero Madrid (n.d). Recuperado el 20 Enero 2020 de https://www.mataderomadrid.org/
Musée d'Orsay (n.d). Recuperado el 20 Enero 2020 de https://m.musee-orsay.fr/es/inicio.html
Nicholson, S. (2015). Peeking behind the locked door: A survey of escape room facilities. Recuperado el 13 Noviembre 2019 en http://scottnicholson.com/pubs/erfacwhite.pdf
Padró, J. (2002). La colonia Güell: industria, arquitectura y sociedad. Barcelona: Angle Editorial
Tilden, F. (1957). La interpretación de nuestro patrimonio. (1ª edición). Sevilla: Asociación para la interpretación del Patrimonio.
UNESCO. (2008). Carpeta de información sobre el patrimonio mundial. Recuperado el 26 Enero 2020 en http://whc.unesco.org/documents/publi_infokit_es.pdf
Villar, A. (2018). Millennial leisure and tourism: the rise of escape rooms. Cuadernos de Turismo, 41, 743-746
Werbach, K. y Hunter, D. (2012). For the Win: How Game Thinking Can Revolutionize Your Business. Harrisburg: Wharton Digital Press.
Wiemker, M., Elumir E. y Clare, A. (2015). Escape Room Games. Can you transform an unpleasant situation into a pleasant one?. Recuperado el 24 Enero 2020 de https://thecodex.ca/wp-content/uploads/2016/08/00511Wiemker-et-al-Paper-Escape-Room-Games.pdf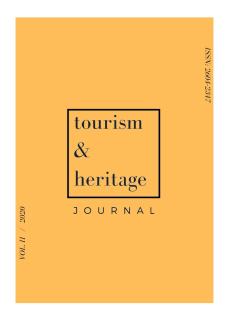 Downloads
How to Cite
Ferrero Jimeno, A. C., & Martínez Ruiz, J. (2020). Street Escape at Colonia Güell: conceptualization, design and evaluation of a strategy for the mediation of cultural heritage. Tourism and Heritage Journal, 2, 28–40. https://doi.org/10.1344/THJ.2020.2.3
License
The authors who publish in this journal agree to the following terms:
Authors retain copyright and grant the journal the right of first publication.
Texts will be published under a Creative Commons Attribution License that allows others to share the work, provided they include an acknowledgement of the work's authorship, its initial publication in this journal and the terms of the license.