The computer will do it: testing PYTHON and ARCMAP in the ITINERARIUM MARITIMUM
Paraules clau:
Python, ArcMap, Itinerarium Maritimum, maps, Latin texts
Resum
In this paper I would like to present some code to have the computer generate maps from texts. My test-case is a passage in the Itinerarium Maritimum. First of all, place names in the text will be identified. From there, some Python code will locate the coordinates by double-checking the place names with a reference document downloaded from the Pleiades Gazeteer. The data extracted will then be saved in a .txt file and inserted into mapping software, in this case ArcMap, in order to generate the cartographical image.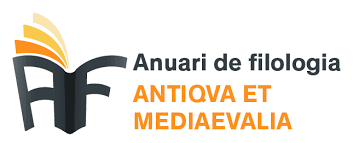 Descàrregues
Com citar
Garcia Casacuberta, N. "The Computer Will Do It: Testing PYTHON and ARCMAP in the ITINERARIUM MARITIMUM". Anuari De Filologia. Antiqua Et Mediaeualia, no. 8, Dec. 2018, pp. 352-60, https://revistes.ub.edu/index.php/AFAM/article/view/27129.
Llicència
L'autor/a que publica en aquesta revista està d'acord amb els termes següents:
a. L'autor/a conserva els drets d'autoria i atorga a la revista el dret de primera publicació de l'obra.
b. Els textos es difondran amb la llicència de Reconeixement de Creative Commons, la qual permet compartir l'obra amb tercers, sempre que en reconeguin l'autoria, la publicació inicial en aquesta revista i les condicions de la llicència.
Taxes d'enviament i publicació: Anuari de Filologia. Antiqua et Mediaevalia no cobra taxes per tramesa de treballs, ni tampoc quotes per la publicació dels seus articles.