Revision of the Maastrichtian-Palaeocene charophyte biostratigraphy of the Fontllonga reference section (southern Pyrenees, Catalonia, Spain)
Keywords:
Charophyta, Biozonation, Àger Basin, correlation, Iberia
Abstract
The Fontllonga section is one of the best-known stratigraphic sections wordwide for the study of charophyte biostratigraphy of the Maastrichtian and lower Palaeocene. An updated proposal for the charophyte biostratigraphy of this section is presented after summarizing previous knowledge. The zone of Peckichara cancellata allows the upper Campanian–lowermost Maastrichtian to be characterised in the base of the section (La Maçana Formation). The Microchara punctata biozone represents most of the Maastrichtian (Figuerola Formation). Within this biozone, a Clavator ultimus subzone is proposed to improve characterisation of the lower and middle Maastrichtian. Both the upper and lower boundaries of the Microchara punctata biozone proposed in previous studies are modified based on new occurrences of the index species. A charophyte assemblage belonging to the Dughiella bacillaris biozone is reported for the first time from the middle of the section (Perauba Complex) and provides an age for this unit ranging from the upper Danian to lower Thanetian. A foraminifer assemblage found in the basal marine deposits above the non-marine succession of the Fontllonga section provides new biostratigraphic data to locate the upper boundary of the non-marine succession at least within the upper Thanetian.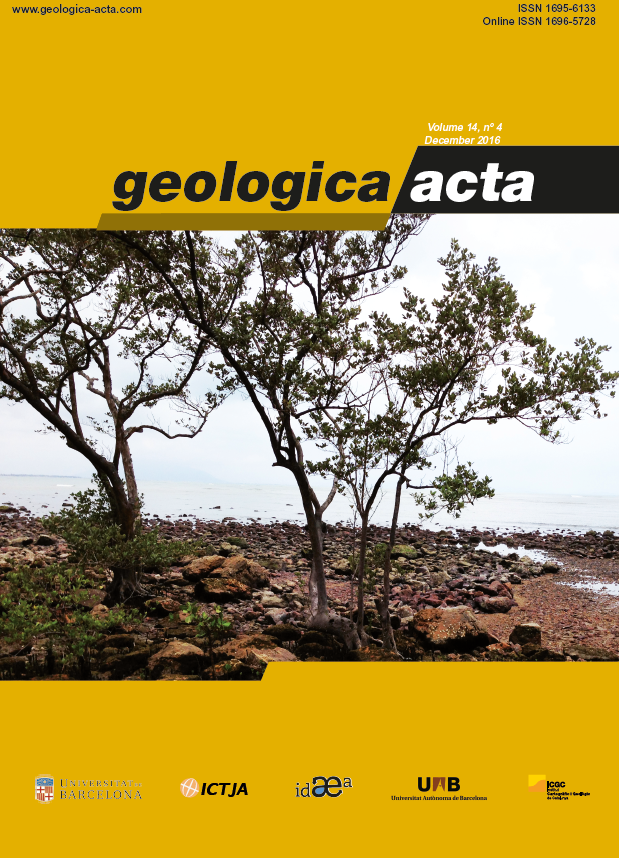 Downloads
License
Copyright (c) 2016 A. VICENTE, S. VILLALBA BREVA, Carles Ferràndez i Cañadell, C. MARTÍN-CLOSAS
This work is licensed under a Creative Commons Attribution-ShareAlike 4.0 International License.
Copyright
Geologica Acta is the property of the UB, GEO3BCN, IDAEA and UAB. Geologica Acta must be cited for any partial or full reproduction. Papers are distributed under the Attribution-Share Alike Creative Commons License. This license allows anyone to reproduce and disseminate the content of the journal and even make derivative works crediting authorship and provenance and distributing possible derivative works under the same or an equivalent license.
Author Rights
Authors retain the copyright on their papers and are authorized to post them on their own web pages or institutional repositories. The copyright was retained by the journal from the year 2003 until 2009. In all cases, the complete citation and a link to the Digital Object Identifier (DOI) of the article must be included. 
The authors can use excerpts or reproduce illustrations of their papers in other works without prior permission from Geologica Acta provided the source of the paper including the complete citation is fully acknowledged.