New palaeobotanical data from Carboniferous Culm deposits constrain the age of the Variscan deformation in the eastern Pyrenees
Keywords:
Biostratigraphy, Sphenophyta, Turbidites, Lower Carboniferous, Variscan Orogeny
Abstract
The pre-Variscan rocks of the Pyrenees exhibit a polyphase deformation linked to the Variscan crustal shortening and a low-pressure–high-temperature metamorphism. However, there is scarce chronostratigraphic evidence of this Variscan deformation. In the Pyrenean low-grade metamorphic domains, maximum ages have been provided by the synorogenic Carboniferous Culm deposits. In medium- to high-grade metamorphic areas, the Variscan regional metamorphism or intrusive magmatic bodies constrain the age of the main Variscan deformation structures. However, these data usually provide a minimum age. Here, we present new palaeobotanical records that assign a Namurian age to the base of the Culm deposits of la Cerdanya in the eastern Pyrenees. This dating is based on the co-occurrence of the sphenopsids Archaeocalamites radiatus, Mesocalamites cistiiformis and the seed of Cardiocarpus sp. The plant remains were found in sandstone facies produced by high-density turbidity flows of a deep-sea fan system. The new biostratigraphic information constrains the age of the Carboniferous Culm succession in the eastern Pyrenees.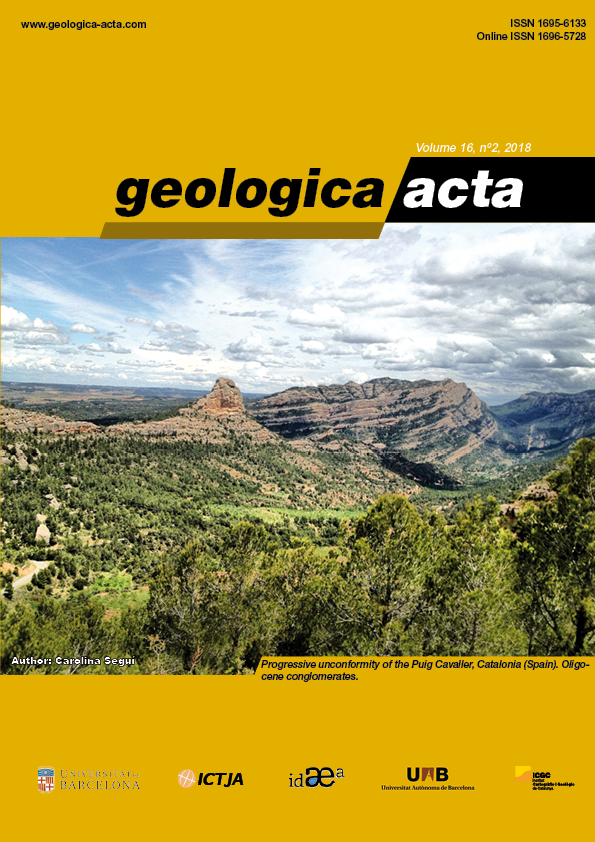 Downloads
License
Copyright
Geologica Acta is the property of the UB, GEO3BCN, IDAEA and UAB. Geologica Acta must be cited for any partial or full reproduction. Papers are distributed under the Attribution-Share Alike Creative Commons License. This license allows anyone to reproduce and disseminate the content of the journal and even make derivative works crediting authorship and provenance and distributing possible derivative works under the same license or an equivalent license.
Author Rights
Authors retain the copyright on their papers and are authorized to post them on their own web pages or institutional repositories. In all cases, the complete citation and a link to the Digital Object Identifier (DOI) of the article must be included.
The authors can use excerpts or reproduce illustrations of their papers in other works without prior permission from Geologica Acta provided the source of the paper including the complete citation is fully acknowledged.