The great disappointment. The returns to the share capital of Catalan railways (1849-1943)
Keywords:
Railways, Catalonia, Railway operation, Profitability
Abstract
This paper analyses the average returns that were obtained by the Catalan railway companies' shareholders between 1849 (when the first Catalan line began to operate) and 1943 (when the Spanish railway network was nationalized). The paper shows, firstly, that the average dividend which was distributed by all companies was very low, and stood more or less markedly below the market interest rate. Secondly, during some short periods great opportunities for speculative profits arouse in the share market, especially for share buyers in the years 1865-1875 and, to a lesser extent, in 1886-1895. Thirdly, the value of the companies' share capital experienced in the long term an intense process of erosion, due both to inflation and the undercapitalization that affected the network.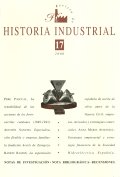 Downloads
License
El/la autor/a cede los derechos al/la editor/a. Creative Commons
El/la autor/a que publica en esta revista está de acuerdo con los términos siguientes:
El/la autor/a cede en exclusiva todos los derechos de propiedad intelectual al/la editor/a para todo el mundo y toda la duración de los derechos de propiedad intelectual vigentes aplicables.
El/la editor/a difundirá los textos con la licencia de reconocimiento de Creative Commons que permite compartir la obra con terceros, siempre que éstos reconozcan su autoría, su publicación inicial en esta revista y las condiciones de la licencia.