The sweet transformation. The Spanish biscuit industry in the second half of the 20tb century
Keywords:
Food Industry, Biscuit Industry, Industrial Policy, Food Consumption
Abstract
This paper looks into the recent history of the Spanish biscuit industry. It aims at proving that the Civil War interrupted the technological change and the birth of the "big company" in the sector. On the other hand, the first Franco's Governments decided the location of the biscuit factories, not according to economic factors, but to strategical needs. As far as demand is concerned, the consumption of biscuits, a luxury good in post war times, was very small unti1 the sixties. However, in the last three decades, due, in part, to the competition of the foreign companies in the home market, the biscuit industry suffered radical changes which have made it one of the most competitive and dynamic branches of the Spanish food industry
Downloads
Download data is not yet available.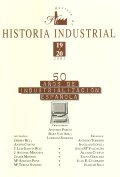 Downloads
How to Cite
Moreno Lázaro, Javier. 2017. "The Sweet Transformation. The Spanish Biscuit Industry in the Second Half of the 20tb Century". Revista De Historia Industrial — Industrial History Review, no. 19-20 (July):205-47. https://doi.org/10.1344/rhi.v0i19-20.19369.
License
El/la autor/a cede los derechos al/la editor/a. Creative Commons
El/la autor/a que publica en esta revista está de acuerdo con los términos siguientes:
El/la autor/a cede en exclusiva todos los derechos de propiedad intelectual al/la editor/a para todo el mundo y toda la duración de los derechos de propiedad intelectual vigentes aplicables.
El/la editor/a difundirá los textos con la licencia de reconocimiento de Creative Commons que permite compartir la obra con terceros, siempre que éstos reconozcan su autoría, su publicación inicial en esta revista y las condiciones de la licencia.