Business networks, foreign direct investment and monopole: the case of Telefonica, 1924-1965
Keywords:
Foreign Direct Investment, Business Networks, Monopole, ITT, Telefónica
Abstract
This paper analyses the role played by business networks in the evolution of foreign direct investment in Spain. For this purpose it is studied the case of one of the most important US investments in the country during the 20th century, Telefónica, whose foundation in 1924 responded to the joint action of the International Telephone and Telegraph (ITT) and some Spanish business groups, particularly the banks Urquijo and Hispano Americano. The research shows how the network developed by the US multinational and its Spanish partners, which included contacts even within the American and the Spanish governments, facilitated the entry and survival of the foreign company, as well as the continuity of the American management after the nationalization of Telefónica in 1945.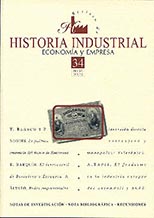 Downloads
License
El/la autor/a cede los derechos al/la editor/a. Creative Commons
El/la autor/a que publica en esta revista está de acuerdo con los términos siguientes:
El/la autor/a cede en exclusiva todos los derechos de propiedad intelectual al/la editor/a para todo el mundo y toda la duración de los derechos de propiedad intelectual vigentes aplicables.
El/la editor/a difundirá los textos con la licencia de reconocimiento de Creative Commons que permite compartir la obra con terceros, siempre que éstos reconozcan su autoría, su publicación inicial en esta revista y las condiciones de la licencia.