Cooperative firms and Nymbi syndrome: The case of Engasa,1981-2008
Keywords:
Galicia, Renewable Energies, Business History, Cooperative, Nimby
Abstract
I energy crisis of the 1970s impelledthe renewable energies. Galicia was well equipped for them, mainly for wind and hydraulic power. Sorne companies like Engasa took advantage of that favourable context. This firm has peculiar characteristics derived frorn its cooperative and mixed character. Its evolution has been conditional by slowness in the beginning of its hydraulic minipower stations, which was caused by the neighbourhood and ecologist opposition. The article aims to answer through a case study, two key questions: why are there cooperative ventures? What business strategies to confront the Nimby problem?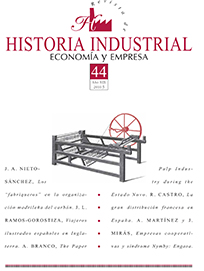 License
El/la autor/a cede los derechos al/la editor/a. Creative Commons
El/la autor/a que publica en esta revista está de acuerdo con los términos siguientes:
El/la autor/a cede en exclusiva todos los derechos de propiedad intelectual al/la editor/a para todo el mundo y toda la duración de los derechos de propiedad intelectual vigentes aplicables.
El/la editor/a difundirá los textos con la licencia de reconocimiento de Creative Commons que permite compartir la obra con terceros, siempre que éstos reconozcan su autoría, su publicación inicial en esta revista y las condiciones de la licencia.