Of Firms and Captives: Railway Infrastructures and the Economics of Forced Labour (Spain, 1937–1957)
Keywords:
Forced labour, railway infrastructure, railway companies, Franco's dictatorship, coercion
Abstract
This article deals with the key economic points that explain the evolution of the deployment of prisoners and prisoners of war on extending and reconstructing railways during the Spanish civil war and Franco's dictatorship. The first part presents a quantitative approach to the works carried out during these periods. Subsequently, an analysis is made of the three main variables of work according to institutional change and the business structure of the Spanish railway: prisoners of war working for private railway companies, prisoners of war working for army battalions, and prisoners working for private construction companies. Thanks to these varied situations, we can better understand how labour supply and productivity levels related to company strategies regarding this kind of labour in different contexts, such as the war economy, post-war reconstruction, and dictatorship, until 1957.
Downloads
Download data is not yet available.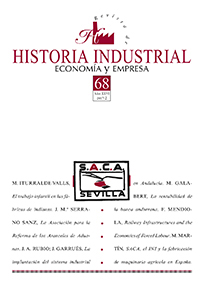 Downloads
License
Copyright (c) 2018 Revista de Historia Industrial. Economía y Empresa
This work is licensed under a Creative Commons Attribution 4.0 International License.
El/la autor/a cede los derechos al/la editor/a. Creative Commons
El/la autor/a que publica en esta revista está de acuerdo con los términos siguientes:
El/la autor/a cede en exclusiva todos los derechos de propiedad intelectual al/la editor/a para todo el mundo y toda la duración de los derechos de propiedad intelectual vigentes aplicables.
El/la editor/a difundirá los textos con la licencia de reconocimiento de Creative Commons que permite compartir la obra con terceros, siempre que éstos reconozcan su autoría, su publicación inicial en esta revista y las condiciones de la licencia.