San José, the city and its evolution. Lossing Urban Cohesion
Keywords:
urban development, urban cohesion, socio-spatial segregation, urban fragmentation.
Abstract
The quest for spatial continuities, which contribute to urban and social cohesion in many Latin American cities, inevitably confronts us with socio-spatial segregation factors that determine the urban dynamics of use and enjoyment. These factors of segregation at the main cities and metropolitan territories have been building invisible barriers, which under the different production and control modes; have become part of the urban landscapes and livelihoods.
To value a city such as San José de Costa Rica, mainly in terms of urban cohesion, is to put in value its historical, economic and urban development as well as the social dynamics and its reflection in the appropriation of the city. We find today, as well as in its first expansion, an urban center with scarce housing, widely dispersed political and economic control centers. We also find a market and economic function with a central cultural activity. Housing zones surrounding the center, present clearly the socio-economic differences that compose to be Costa Rican urban today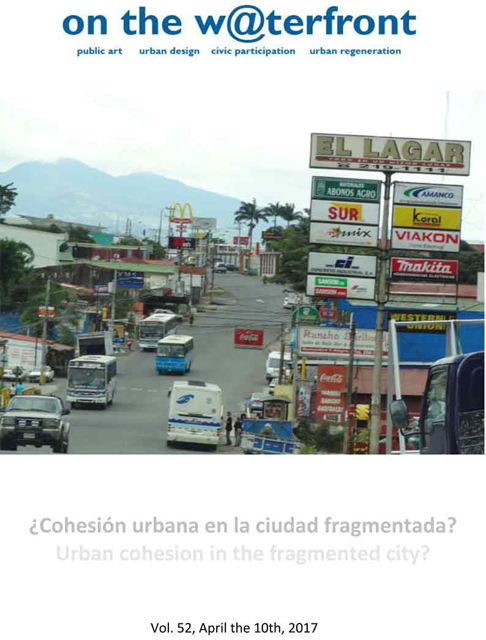 How to Cite
Sasa, Zuhra. 2017. "San José, the City and Its Evolution. Lossing Urban Cohesion". On the W@terfront 52 (April):9-69. https://revistes.ub.edu/index.php/waterfront/article/view/18612.
License
The 
 licence allows: Share — copy and redistribute the material in any medium or format and Adapt — remix, transform, and build upon the material for any purpose, even commercially.The licensor cannot revoke these freedoms as long as you follow the license terms. Author's rights are protected by the ISSN 1139-7365. On the w@terfront has no restrictions respect the copyright by the authors and does allow authors to retain the publishing rights without restrictions.
This journal does not apply any type of charge to the authors for the presentation or processing of the articles.