The reform of the Avenida Diagonal. Success or failure of a participatory process?
Keywords:
Barcelona, Diagonal Avenue, Citizen Participation
Abstract
The Diagonal Avenue is one of the most emblematic streets of Barcelona, has been a fundamental axis of economic and urban development of this important European city. A container of history, witness of the citizen's life from the nineteenth century to actuality. It has been a most important laboratory of urban design in which practice and experience have left a large inventory of architectural interventions and also in public spaces, which have given a particular image to the city. The architecture, for example, gave it a singular elegance, its urban design extolled its landscape, the diverse equipment's and civics buildings, revitalize the movement and interaction of the population, its length and width awarded it the preferential hierarchy that makes it one of the main civic and mobility axes of Barcelona and its metropolitan area.
The recent reform projects presented for Diagonal, and the transformation of a one section inaugurated in 2015 allows us to approach the production of public space as an essential topic in the life of cities, from three perspectives: policy (the parties within the Government and the city administration), the prospect of citizenship (capacity or opportunity that is the population to influence the form, management and design of the city) and the prospect of the process, design, elaboration and implementation of the project of public space. Specially, when the citizens participation is used like a base of project's discourse.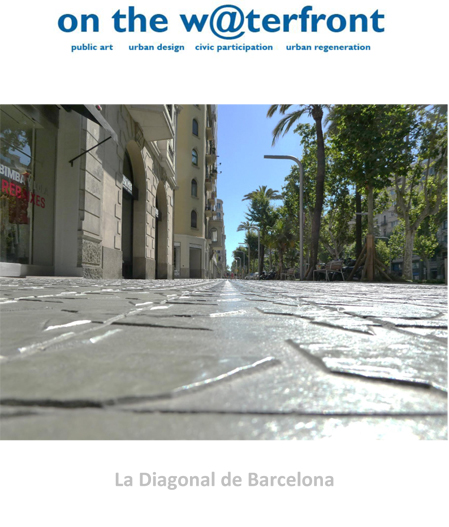 How to Cite
Padilla Llano, Samuel E. 2016. "The Reform of the Avenida Diagonal. Success or Failure of a Participatory Process?". On the W@terfront 46 (July):7-84. https://revistes.ub.edu/index.php/waterfront/article/view/18677.
License
The 
 licence allows: Share — copy and redistribute the material in any medium or format and Adapt — remix, transform, and build upon the material for any purpose, even commercially.The licensor cannot revoke these freedoms as long as you follow the license terms. Author's rights are protected by the ISSN 1139-7365. On the w@terfront has no restrictions respect the copyright by the authors and does allow authors to retain the publishing rights without restrictions.
This journal does not apply any type of charge to the authors for the presentation or processing of the articles.