PUBLIC SPACE AS CATALYST OF ARCHITECTURE, ART AND URBAN DESIGN
Keywords:
Public Space, Townscape, Public Art, Urban Aesthetics
Abstract
Every city is constantly seeking its identity. This identity lies in the perception of its inhabitants. The most significant habitat of the city is its public space, the place where more and better human interactions are reflected. Impressions we perceive in the public space form a mental image that helps to generate an important part of that identity. In that sense, public art can catalyze the relationship between architecture and design of public space, a place where all components are involved in the urban aesthetic. The social component appears from the consideration of public space as a place of social integration. In conclusion, the public space and its social potential is an interest place for the art production, appreciation and artistic-aesthetic participation. In the public space, the confluence of architecture, art, design and society contributes decisively to define the citizenship status.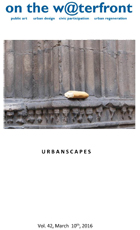 How to Cite
García-Doménech, Sergio. 2016. "PUBLIC SPACE AS CATALYST OF ARCHITECTURE, ART AND URBAN DESIGN". On the W@terfront 42 (March):7-24. https://revistes.ub.edu/index.php/waterfront/article/view/18687.
License
The 
 licence allows: Share — copy and redistribute the material in any medium or format and Adapt — remix, transform, and build upon the material for any purpose, even commercially.The licensor cannot revoke these freedoms as long as you follow the license terms. Author's rights are protected by the ISSN 1139-7365. On the w@terfront has no restrictions respect the copyright by the authors and does allow authors to retain the publishing rights without restrictions.
This journal does not apply any type of charge to the authors for the presentation or processing of the articles.