La calle es nuestra: La pintura mural del colectivo plástico de zaragoza durante la transición.
Paraules clau:
Pintura mural, Zaragoza, barrios, "arte para el pueblo", Painting, Saragossa, neighborhoods, community arts.
Resum
Dentro del proceso de transición española hacia un régimen democrático, la pintura mural en el espacio urbano adquirió un papel de primera importancia al convertirse en un medio de expresión con el que partidos políticos y ciudadanos manifestaron sus deseos de cambio. El Colectivo Plástico de Zaragoza protagonizó esta actividad en Zaragoza junto con los barrios de la ciudad, que expresaron a través de estos murales las deficiencias y reivindicaciones que demandaban sus vecinos.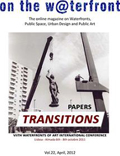 Descàrregues
Com citar
Grau Tello, Mª Luisa. 2012. "La Calle Es Nuestra: La Pintura Mural Del Colectivo plástico De Zaragoza Durante La transición". on the w@terfront. Public Art.Urban Design.Civic Participation.Urban Regeneration, no. 22 (April):7-24. https://revistes.ub.edu/index.php/waterfront/article/view/18780.
Llicència
The 
 licence allows: Share — copy and redistribute the material in any medium or format and Adapt — remix, transform, and build upon the material for any purpose, even commercially.The licensor cannot revoke these freedoms as long as you follow the license terms. Author's rights are protected by the ISSN 1139-7365. On the w@terfront has no restrictions respect the copyright by the authors and does allow authors to retain the publishing rights without restrictions.
This journal does not apply any type of charge to the authors for the presentation or processing of the articles.