La transición democrática en Huesca: su espacio y su arte urbano.
Paraules clau:
Ciudad, espacio urbano, monumento, arte público, fotografía. City, urban space, monument, public art, photography.
Resum
Huesca es una ciudad tranquila y apacible cuya morfología urbana es fruto de un importante cambio que se produjo de manera paulatina durante la Transición española (1975-1982). A partir de ese momento, esta pequeña capital de provincias abandonó la tendencia radio concéntrica de su urbanismo para someterse a una importante transformación. El ensanche oscense facilitó el crecimiento de su espacio urbano lo que tuvo un fuerte impacto en la creación de nuevos barrios y nuevos lugares públicos que se llenaron de un interesante patrimonio artístico. Estos cambios fueron captados en fotografías que hemos encontrado en diferentes archivos. De esta manera, la recuperación de imágenes antiguas nos permite reconstruir el desarrollo y la evolución de la ciudad, convirtiendo a la fotografía en testigo mudo de aquella etapa histórica y medio para la recuperación del espacio urbano, del arte público y de la memoria.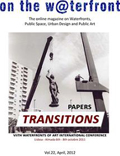 Descàrregues
Com citar
Juan García, Natalia. 2012. "La transición democrática En Huesca: Su Espacio Y Su Arte Urbano". on the w@terfront. Public Art.Urban Design.Civic Participation.Urban Regeneration, no. 22 (April):89-103. https://revistes.ub.edu/index.php/waterfront/article/view/18785.
Llicència
The 
 licence allows: Share — copy and redistribute the material in any medium or format and Adapt — remix, transform, and build upon the material for any purpose, even commercially.The licensor cannot revoke these freedoms as long as you follow the license terms. Author's rights are protected by the ISSN 1139-7365. On the w@terfront has no restrictions respect the copyright by the authors and does allow authors to retain the publishing rights without restrictions.
This journal does not apply any type of charge to the authors for the presentation or processing of the articles.