The democratic transition in Huesca: its space and its urban art
Keywords:
City, urban space, monument, public art, photography
Abstract
Huesca is a quiet and peaceful city whose urban morphology is the result of a major change that came about gradually during the Spanish Transition (1975-1982). Since that time, this small provincial capital left the radius-concentric trend of planning to undergo a major transformation. The widening of Huesca facilitated the growth of its urban space which had a strong impact in creating new neighborhoods and new public places that were filled with an interesting artistic heritage. These changes were captured in photographs that we have found in different archives. Thus, the recovery of old images allows us to reconstruct the development and evolution of the city, transforming photography in a silent witness of that historical period and a medium for the recovery of urban space, public art and memory.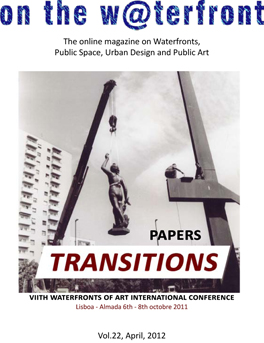 Downloads
How to Cite
Juan García, Natalia. 2012. "The Democratic Transition in Huesca: Its Space and Its Urban Art". On the W@terfront, no. 22 (April):89-103. https://revistes.ub.edu/index.php/waterfront/article/view/18785.
License
The 
 licence allows: Share — copy and redistribute the material in any medium or format and Adapt — remix, transform, and build upon the material for any purpose, even commercially.The licensor cannot revoke these freedoms as long as you follow the license terms. Author's rights are protected by the ISSN 1139-7365. On the w@terfront has no restrictions respect the copyright by the authors and does allow authors to retain the publishing rights without restrictions.
This journal does not apply any type of charge to the authors for the presentation or processing of the articles.