"Intervention in Sixaola: institutional and epistemological basis of TCU: Public Art."
Keywords:
public art, community development, Sixaola, TCU
Abstract
This article is a transcript of the talk: "Intervention in Sixaola: institutional and epistemological basis of TCU: Public Art." imparted in the seminar "Public art, articipation and urban design" held at the Faculty of Architecture at the University Costa Rica in November 2011. Specifically, this lecture was held on November the 8th. The aim of this talk was to present the efforts made by the University of Costa Rica in the field of public art and community development, studying the project coordinated by the author of this article from the School of Visual Arts in conjunction with the Vice-chancellor for Social Action of the university. Given that this lecture attendees were not strangers to the project accompanying institutions the lecture depart from certain assumptions known to them, though strangers to the potential readers of this article. Therefore, these assumptions are clarified with notes of hope footer that will be useful to the reader.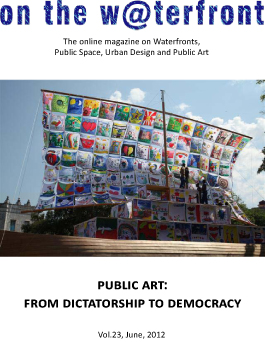 Downloads
How to Cite
Bonilla Elizondo, Pablo. 2012. "'Intervention in Sixaola: Institutional and Epistemological Basis of TCU: Public Art.'". On the W@terfront, no. 23 (June):31-45. https://revistes.ub.edu/index.php/waterfront/article/view/18794.
License
The 
 licence allows: Share — copy and redistribute the material in any medium or format and Adapt — remix, transform, and build upon the material for any purpose, even commercially.The licensor cannot revoke these freedoms as long as you follow the license terms. Author's rights are protected by the ISSN 1139-7365. On the w@terfront has no restrictions respect the copyright by the authors and does allow authors to retain the publishing rights without restrictions.
This journal does not apply any type of charge to the authors for the presentation or processing of the articles.