LES CORTS WOMEN PRISION MEMORY AN APPRAISAL (2006‐2014) AND A LOOK AT PRESENT (2006‐2014)
Keywords:
Digital History, Public History, Women History, Democratic Memory, Oral History
Abstract
This article intends to be an assessment of the work implemented by the Website Memòria de la presó de dones de Les Corts, –Les Corts women prison memory–,
(www.presodelescorts.org). This currently active project started in 2006 by the Associació per la Cultura i la Memòria de Catalunya (ACMe). The text is composed of two parts. In the first one, the project is described within a Public History, Digital History and Oral History framework. The second one focuses on the activities developed along these years.
Educational activities such as visits to primary and secondary schools as well as participatory activities. Those actions will materialize in a future monument sited at the former prison's property in this Barcelona's district of Les Corts.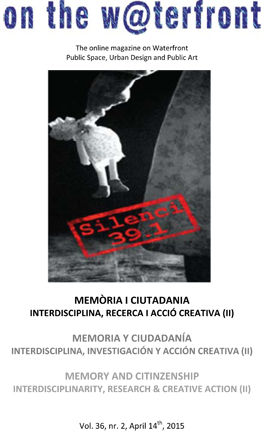 How to Cite
Hernández Holgado, Fernando. 2015. "LES CORTS WOMEN PRISION MEMORY AN APPRAISAL (2006‐2014) AND A LOOK AT PRESENT (2006‐2014)". On the W@terfront 36 (2):5-27. https://revistes.ub.edu/index.php/waterfront/article/view/18818.
License
The 
 licence allows: Share — copy and redistribute the material in any medium or format and Adapt — remix, transform, and build upon the material for any purpose, even commercially.The licensor cannot revoke these freedoms as long as you follow the license terms. Author's rights are protected by the ISSN 1139-7365. On the w@terfront has no restrictions respect the copyright by the authors and does allow authors to retain the publishing rights without restrictions.
This journal does not apply any type of charge to the authors for the presentation or processing of the articles.