INTERDISCIPLINARITY AND DESIGN. A VISSION
Keywords:
Design, Interdisciplinarity, interdisciplinary work, Creative Process, Complexity
Abstract
Nowadays, the discipline of design incorporates more complexity due to the influence of scientific and technological advances, the new materials, processes and a further development of TIC technologies, without forgetting the socioeconomic and market requirements. As a result, a greater number of interrelated disciplines within the field of design performance is appreciated especially in conceptual and project aspects.
This new situation has enhanced prescriptive approaches to the design project, generating a high degree of interdisciplinarity in greater breadth and scope in the project activity.
The interdisciplinarity in the design focuses not only within the creative process but also in the own conceptualization reasoning and structural approaches in the project.
In relation to the design training, in the context of universities, we must reconsider pedagogical approaches to the increasing role of interdisciplinarity.
This forces to redefine curricula where the projects subjects will be the backbone of the training activity.
Considering projects of increasing complexity and where the other subjects taught will interrelate with the project proposals, providing expertise, methodologies, techniques and tools. This facilitates a greater definition and effectiveness in the result.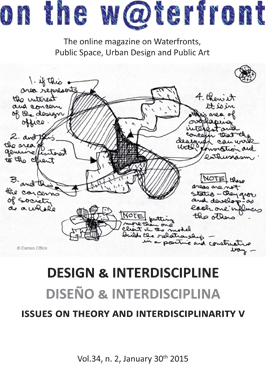 Downloads
How to Cite
Tresserras, Josep. 2015. "INTERDISCIPLINARITY AND DESIGN. A VISSION". On the W@terfront 34 (2):5-18. https://revistes.ub.edu/index.php/waterfront/article/view/18829.
License
The 
 licence allows: Share — copy and redistribute the material in any medium or format and Adapt — remix, transform, and build upon the material for any purpose, even commercially.The licensor cannot revoke these freedoms as long as you follow the license terms. Author's rights are protected by the ISSN 1139-7365. On the w@terfront has no restrictions respect the copyright by the authors and does allow authors to retain the publishing rights without restrictions.
This journal does not apply any type of charge to the authors for the presentation or processing of the articles.