TOPSY-TURVY-TRICKSY…BANKSY!
Keywords:
ansky, Urban Art
Abstract
My article centers the discussion on Banksy's street interventions. It analyzes the world's most famous street artist, underlining the impact of his artworks on the city and its citizens. Banksy's street art calls attention to the hypocrisy of political and corporate ownership and to authority over public spaces. Banksy's stencils and museum interventions encourage interactions, often using timeless symbols and icons, inciting to question existing structures of authority and hegemony, fighting for a redistribution of power. My analysis demonstrates that Banksy's cultural production is a way of linking street art to beautification and enhancement of the urban environment. In conclusion this study promotes Banksy's imaginative use of locations and public spaces as a way to bring out the wonders of the urban landscape fostering a new urban mindscape.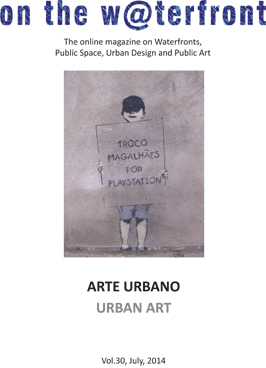 How to Cite
Valesi, Marco. 2014. "TOPSY-TURVY-TRICKSY…BANKSY!". On the W@terfront, no. 30 (July):4-22. https://revistes.ub.edu/index.php/waterfront/article/view/18838.
License
The 
 licence allows: Share — copy and redistribute the material in any medium or format and Adapt — remix, transform, and build upon the material for any purpose, even commercially.The licensor cannot revoke these freedoms as long as you follow the license terms. Author's rights are protected by the ISSN 1139-7365. On the w@terfront has no restrictions respect the copyright by the authors and does allow authors to retain the publishing rights without restrictions.
This journal does not apply any type of charge to the authors for the presentation or processing of the articles.