PUBLIC SPACE, STREET VEND ORS AND COSTUMERS IN SAN JOSÉ, COSTA RICA
Keywords:
public space, mobility, itinerant vendors, itinerant customers, San José
Abstract
The article analyzes the relationship between the existence of street vendors and the city flow of pedestrians and travellers in constant movement. This interdependence increases and shift places within the city accordingly with the costumers that are also itinerants. It is assumed that, informal commercial activities in public spaces (or listed as public access) have been developed in a analog way to the itinerant consum practices of street buyers within the "metropolization" of the city of San José.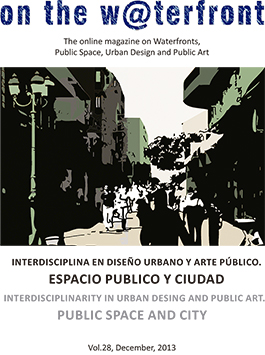 How to Cite
Durán Segura, Luis Armando. 2013. "PUBLIC SPACE, STREET VEND ORS AND COSTUMERS IN SAN JOSÉ, COSTA RICA". On the W@terfront, no. 28 (December):57-77. https://revistes.ub.edu/index.php/waterfront/article/view/18848.
License
The 
 licence allows: Share — copy and redistribute the material in any medium or format and Adapt — remix, transform, and build upon the material for any purpose, even commercially.The licensor cannot revoke these freedoms as long as you follow the license terms. Author's rights are protected by the ISSN 1139-7365. On the w@terfront has no restrictions respect the copyright by the authors and does allow authors to retain the publishing rights without restrictions.
This journal does not apply any type of charge to the authors for the presentation or processing of the articles.