Culture as an Urban Regenerator? The case of Bairro Alto in Lisbon
Keywords:
Culture, Urban Regeneration, Cultural Strategies, Downtown
Abstract
The cities' urban form and cultures go through enormous transformation, with some similarities in their adaptation processes.
But not everything follows a unique and universal pattern and the unknown or unstable character of many of these phenomena increases the degree of diversity and uncertainty.
What is the role of culture in urban renewal processes in a context where there is a multiplication of «capitals of culture», world exhibitions and certain museums which act as symbolic elements for the promotion? In what way people as an individual or a group participate in these changes? Is it the concept of neighborhood and the appropriation of public space which are fundamental elements in city life or rather fear, privatization and choice of themes are the elements that define the public space?
We show in this article the case-study of «Bairro Alto», an old quarter in the city of Lisbon, as an example of a spontaneous process, where we can identify the "artistic neighborhood" concept and it's urban renewal capacities.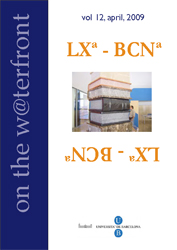 How to Cite
Vale, Sandra. 2009. "Culture As an Urban Regenerator? The Case of Bairro Alto in Lisbon". On the W@terfront, no. 12 (April):39-58. https://revistes.ub.edu/index.php/waterfront/article/view/18884.
License
The 
 licence allows: Share — copy and redistribute the material in any medium or format and Adapt — remix, transform, and build upon the material for any purpose, even commercially.The licensor cannot revoke these freedoms as long as you follow the license terms. Author's rights are protected by the ISSN 1139-7365. On the w@terfront has no restrictions respect the copyright by the authors and does allow authors to retain the publishing rights without restrictions.
This journal does not apply any type of charge to the authors for the presentation or processing of the articles.