The interface, public space? Two cases
Keywords:
Urban Tansportation, interfaces, urban centres, evaluation
Abstract
This article aims to describe, in a summarized form, the various issues developed in the authors Master's Thesis and Final Project work.
The choice of the theme has its origin in the project developed. The area in question (with a large number and variety of transports), is characterized by the constant conflict pedestrian/car. The author's growing interest in the subject of Transport Interfaces and the essential analysis for a better development of the Project, encouraged her to study in greater depth this issue.
The thesis aimed to study the subject of Transport Interfaces, either in morphological, functional and organizational terms, or in terms of environment and relationship with the city.
The study of the Transport Interface's functions as urban centrality and the evaluation of the attractibility for urban uses. In
other words, the aim is to see if the interface begins to be, or has the potential to be an important point in urban structure, not just another node transport, but also a cultural and recreational space as well as an interesting space for social interaction;
Specifically:
- the evaluation of the spatial organization of the interface by levels (altimetry);
- the analysis of how and in which situations, these links are best;
- the evaluation of the design of a Transport Interface, through study cases;
- finally, the evaluation of implications in the project developed.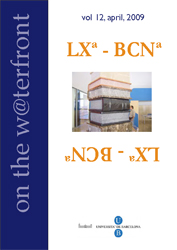 How to Cite
Piedade, Inês. 2009. "The Interface, Public Space? Two Cases". On the W@terfront, no. 12 (April):119-30. https://revistes.ub.edu/index.php/waterfront/article/view/18889.
License
The 
 licence allows: Share — copy and redistribute the material in any medium or format and Adapt — remix, transform, and build upon the material for any purpose, even commercially.The licensor cannot revoke these freedoms as long as you follow the license terms. Author's rights are protected by the ISSN 1139-7365. On the w@terfront has no restrictions respect the copyright by the authors and does allow authors to retain the publishing rights without restrictions.
This journal does not apply any type of charge to the authors for the presentation or processing of the articles.