PAVEMENT AS CONTINUITY - THE CASE FROM LISBON
Keywords:
Paving, Public Space, Pedestrians, Centre City, Lisboa
Abstract
The main purpose of this study is the need to understand the importance of pavement in the city's public space, since it's the floor of so many and so different urban activities.
To reach this goal, the present paper is divided in three parts. The first one is about defining and framing the concept of pavement in a way that turns clear the context of the subject. The second part consists in the understanding of the pedestrian activities and what they represent in terms of pavement. The third and last part refers to the application of the theory developed to a study case belonging to Lisbon's Historical Centre, in which there is a short framing of the area followed by an analysis based on all the different topics explained earlier in the text.
To conclude this practical part of the study a small proposal is presented defining guide lines for an intervention regarding the pavement of the study case, in which its different characteristics are and potential analysed.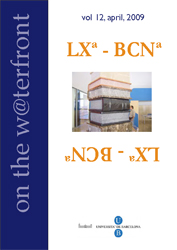 Downloads
How to Cite
Pimenta, Joana. 2009. "PAVEMENT AS CONTINUITY - THE CASE FROM LISBON". On the W@terfront, no. 12 (April):131-45. https://revistes.ub.edu/index.php/waterfront/article/view/18890.
License
The 
 licence allows: Share — copy and redistribute the material in any medium or format and Adapt — remix, transform, and build upon the material for any purpose, even commercially.The licensor cannot revoke these freedoms as long as you follow the license terms. Author's rights are protected by the ISSN 1139-7365. On the w@terfront has no restrictions respect the copyright by the authors and does allow authors to retain the publishing rights without restrictions.
This journal does not apply any type of charge to the authors for the presentation or processing of the articles.