HISTORIC CENTRE(S) OF BARCELONA: PRACTICAL AND SYMBOLIC ELEMENTS IN TRADITIONAL URBAN SPACE
Abstract
The present model of global economy, the evolution of social structures, and a positive politic scene, among others aspects, demand the transformation of the city in order to solve the challenges present in most of contemporary cities. A very important part of the investments in this area are dedicated to enlarge and improve the patrimony of public space.
But a public space of quality it's only possible if it facilitates the improvement of the citizen's quality of life and helps in the development of the social relations. A public space of quality should also have the capacity to preserve and enrich the memory of the place, and wherever possible, the practice of the essential values of the contemporary society: sustainability, multiculturalism, democracy, tolerance...
Reevaluating the peripheries and recovering the city centre, involves very different kind of strategies. In both cases, this means the integration of degraded neighborhoods to a unified urban system of the city. Acting in a historical centre, requires of a special sensibility that reinforce the historic and artistic values of the place, allowing at the same time, the rehabilitation of the public space to the needs of the present society.
In this sense, it turns out to be utterly important to preserve what the place has been accumulating through time, and those items which have became elements of identity during this process, as well as integrating new elements, which generate different meanings while helping in the process of appropriation.
The model of compact city that Barcelona aims, has required the renewal of its historical areas, and in order to improve their level of centrality, taking into account, that in addition of its historical centre "Ciutat Vella", Barcelona contains diverse traditional neighborhoods each of them having their own historical centre. The difference centre‐periphery should also be perceived among these other historical centers. Integration should not be confused with standardization, neither differentiation with segregation.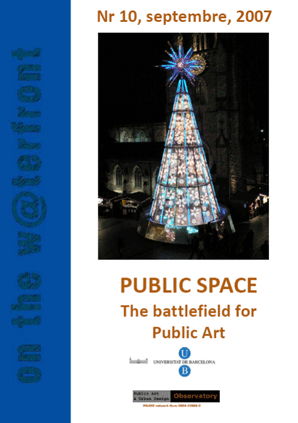 Downloads
How to Cite
Martínez Robles, Verónica. 2007. "HISTORIC CENTRE(S) OF BARCELONA: PRACTICAL AND SYMBOLIC ELEMENTS IN TRADITIONAL URBAN SPACE". On the W@terfront, no. 10 (September):13-30. https://revistes.ub.edu/index.php/waterfront/article/view/18916.
License
The 
 licence allows: Share — copy and redistribute the material in any medium or format and Adapt — remix, transform, and build upon the material for any purpose, even commercially.The licensor cannot revoke these freedoms as long as you follow the license terms. Author's rights are protected by the ISSN 1139-7365. On the w@terfront has no restrictions respect the copyright by the authors and does allow authors to retain the publishing rights without restrictions.
This journal does not apply any type of charge to the authors for the presentation or processing of the articles.