THE PLACES FOR PARTICIPATION
Resum
The current upsurge of interest in street art with its direct approach to the city emphasizes the need to readdress public arts' role within the wider social and cultural context. As it becomes routine to incorporate art works into city planning and city life, art has become both 'safe' and 'user‐friendly'. On the one hand, art is subsumed and immersed into the wider culture through leisure and entertainment policies, socially engaged public art projects, community art and urban design. On the other hand, there are those works which deliberately intend to unsettle or confront the viewer. In recent years the term intervention has been ascribed to unorthodox art works in the public sphere which are often illicit, or at least non‐complicit in the prevailing hegemony. These practices are disruptive due to their enactment outside traditional art spaces, often in the streets. By occupying the streets, places of democracy and disjunction, these interventions transform public space back into a place of overt cultural and political expression. They also deliberately involve the inhabitants of the city by utilizing everyday spaces in ways which offer an unmediated sense of the artwork.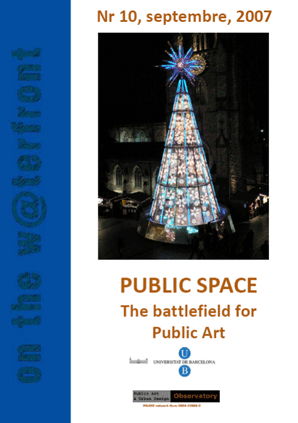 Com citar
Carson, Tania. 2007. "THE PLACES FOR PARTICIPATION". on the w@terfront. Public Art.Urban Design.Civic Participation.Urban Regeneration, no. 10 (September):55-63. https://revistes.ub.edu/index.php/waterfront/article/view/18920.
Llicència
The 
 licence allows: Share — copy and redistribute the material in any medium or format and Adapt — remix, transform, and build upon the material for any purpose, even commercially.The licensor cannot revoke these freedoms as long as you follow the license terms. Author's rights are protected by the ISSN 1139-7365. On the w@terfront has no restrictions respect the copyright by the authors and does allow authors to retain the publishing rights without restrictions.
This journal does not apply any type of charge to the authors for the presentation or processing of the articles.