RECOVERING THE MEMORY OF THE PUBLIC SPACE: LEIRIA'S WATERFRONT
Keywords:
Public Art, Urban Design
Abstract
Leiria can be recognized as a flagship case within the scope medium‐sized Portuguese cities, so much so by way
of its unruly growth in the last decades of the 20th century, as by the self‐conscious process of loss of quality in
urban life.
On the brink of the millennium, the "opportunity to make city" turned it (among others), into the target
of a national plan for urban and environmental reinstatement of Portuguese waterfronts.
This presentation intends, above all, to focus on the middle process of acknowledging the loss of the public
space and the importance of rebuilding the memories of physical spaces around which the city has grown and
prospered.
In these "remaining" places, spawned from the logic of "spontaneity" between the urban core and the
natural element ‐ river ‐ there resides the excellence of memory, that has progressively faded with time.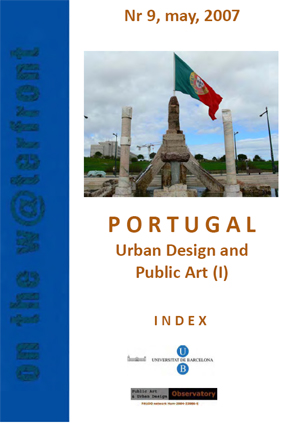 How to Cite
Bonifácio, Ana. 2007. "RECOVERING THE MEMORY OF THE PUBLIC SPACE: LEIRIA'S WATERFRONT". On the W@terfront, no. 9 (April):97-108. https://revistes.ub.edu/index.php/waterfront/article/view/18929.
License
The 
 licence allows: Share — copy and redistribute the material in any medium or format and Adapt — remix, transform, and build upon the material for any purpose, even commercially.The licensor cannot revoke these freedoms as long as you follow the license terms. Author's rights are protected by the ISSN 1139-7365. On the w@terfront has no restrictions respect the copyright by the authors and does allow authors to retain the publishing rights without restrictions.
This journal does not apply any type of charge to the authors for the presentation or processing of the articles.