Monumentality and public space in Lourenço Marques in the 1930 and 1940
Paraules clau:
Monument, public sculpture, public space, Estado Novo (New State), Lourenço Marques, War Memorial of Lourenço Marques, Monument to Mouzinho de Albuquerque, national allegory, aura
Resum
Lourenço Marques, actual Maputo (Mozambique), is subjected to a series of aesthetic interventions in its public space during the 1930s e 1940s. These seek to "monumentalize" and "portugalize" the city, responding to its recently acquired status as capital of the Colony. Two monuments appear as especially important and exemplary: the Padrão de Guerra, a lately built First War memorial (1935), and the monument to the hero of the "pacification campaigns" of the 1890s, Mouzinho de Albuquerque (1940). Around these monuments, a large number of commemorative and celebrative practices are developed. Such practices posit the monument as a "national allegory" and reproduce, in the context of a modern city, auratic and cult values. As such, they add an important dimension to the monument's role in the authoritarian reformulation of the city's public space as an "imperial" space, as well as in the putative hegemonization of the representations of the community imagined as a "Nation". They allow, therefore, to approach the political-ideological use and utility of the monument within the organization of public space.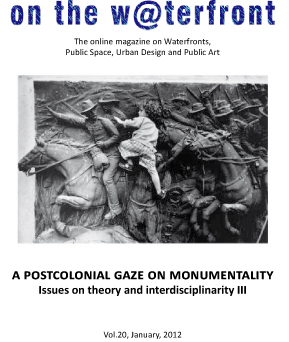 Com citar
Verheij, Gerbert. 2012. "Monumentality and Public Space in Lourenço Marques in the 1930 and 1940". on the w@terfront. Public Art.Urban Design.Civic Participation.Urban Regeneration, no. 20 (January):11-54. https://revistes.ub.edu/index.php/waterfront/article/view/18810.
Llicència
The 
 licence allows: Share — copy and redistribute the material in any medium or format and Adapt — remix, transform, and build upon the material for any purpose, even commercially.The licensor cannot revoke these freedoms as long as you follow the license terms. Author's rights are protected by the ISSN 1139-7365. On the w@terfront has no restrictions respect the copyright by the authors and does allow authors to retain the publishing rights without restrictions.
This journal does not apply any type of charge to the authors for the presentation or processing of the articles.