WHO BUILDS OUR URBAN IMAGINARY?
Keywords:
architecture, computerized city, homogeneous culture, global culture, urban culture, urban collective images, urbanism
Abstract
This study suggests that the early inhabitants of the twenty-first century, live the experience of discontinuity, lack of integration and fragmentation as a natural process, as has been instructed to be part of a mass society as a model of homogeneous global culture, discontinuous and fragmented as a reflect of the operation of the media.
Thus the result of the images of cities is the loss of local identities based on economic interests of a global society. The cultural impact of these interests affect citizen behaviour, in the sense that we are experiencing a relocation of the own, for the benefit of the deterritorialized and dehistoricized, leading increasingly to a gradual loss of local urban cultures. It raises the question about the real perpetrators of our current urban image and the need to know its components to be able to approach and intervene it.
As a result of this we propose the use of a model of urban image analysis based on variables drawn from the local urban context and from the point of view of the pedestrian. Especially raises an image viewing from how we move in space, how space formal relations are visually built as and the experiences that characterize it.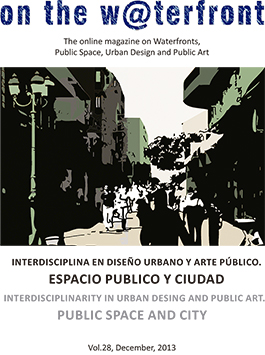 How to Cite
Mejías Cubero, Rodolfo. 2013. "WHO BUILDS OUR URBAN IMAGINARY?". On the W@terfront, no. 28 (December):4-20. https://revistes.ub.edu/index.php/waterfront/article/view/18845.
License
The 
 licence allows: Share — copy and redistribute the material in any medium or format and Adapt — remix, transform, and build upon the material for any purpose, even commercially.The licensor cannot revoke these freedoms as long as you follow the license terms. Author's rights are protected by the ISSN 1139-7365. On the w@terfront has no restrictions respect the copyright by the authors and does allow authors to retain the publishing rights without restrictions.
This journal does not apply any type of charge to the authors for the presentation or processing of the articles.