"Artistic" focuses on processes of urban regeneration. Reflection on the Lisbon municipal art workshops
Keywords:
Urban regeneration, art neighbourhoods, Lisboa
Abstract
The present paper deals with a specific aspect of the so-called urban regeneration
processes; this is the emergence of urban areas with specific concentration of artistic production. The objective is to reflect and analyze the current state and management of Lisbon's local art studios as well as to see how the last decade's social and political context has conditioned the flourishing of artistic activities as well as the cultural and artistic production in the Portuguese capital. The first section of the paper talks about the emergence of art studios as a result of an urban regeneration process and relating it to Lisbon's recent social and economic context. The next sections will describe the current state of the city's art studios and concluding with some reflections on the matter.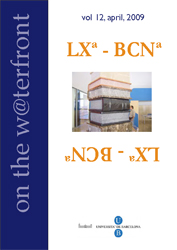 How to Cite
Remesar Aguilar, Nemo A. 2009. ""Artistic" Focuses on Processes of Urban Regeneration. Reflection on the Lisbon Municipal Art Workshops". On the W@terfront, no. 12 (April):59-66. https://revistes.ub.edu/index.php/waterfront/article/view/18885.
License
The 
 licence allows: Share — copy and redistribute the material in any medium or format and Adapt — remix, transform, and build upon the material for any purpose, even commercially.The licensor cannot revoke these freedoms as long as you follow the license terms. Author's rights are protected by the ISSN 1139-7365. On the w@terfront has no restrictions respect the copyright by the authors and does allow authors to retain the publishing rights without restrictions.
This journal does not apply any type of charge to the authors for the presentation or processing of the articles.