Poblenou y La Mina [Barcelona], participación creativa con la metodología de las CPBoxes
Abstract
En el último año, en la reunión del Public Art Observatory en Lisboa (septiembre 2002) y en el marco del congreso User (marzo 2003), presentamos uno de nuestros proyectos iniciado en el 2001 y centrado en la búsqueda de metodologías de participación ciudadana para el desarrollo de propuestas de arte público o diseño de espacio público: las denominadas CPBoxes (cajas de acotaciones y tendencias).
Ahora, después de la realización de distintas dinámicas de participación ciudadana, tanto en el barrio de La Mina como en el de Poblenou, ambas zonas urbanas de Barcelona caracterizadas por los profundos cambios urbanos y sociales a los que se hayan sometidas, hemos percibido que la metodología propuesta ha resultado ser, no sólo herramienta perfecta para averiguar la percepción y significado que los ciudadanos otorgan a su espacio, sino excelente
instrumento de dinamización cultural y educativa para realizar con grupos escolares de educación secundaria con el objetivo de descubrir y conocer conceptos relacionados con la ciudad y el espacio urbano.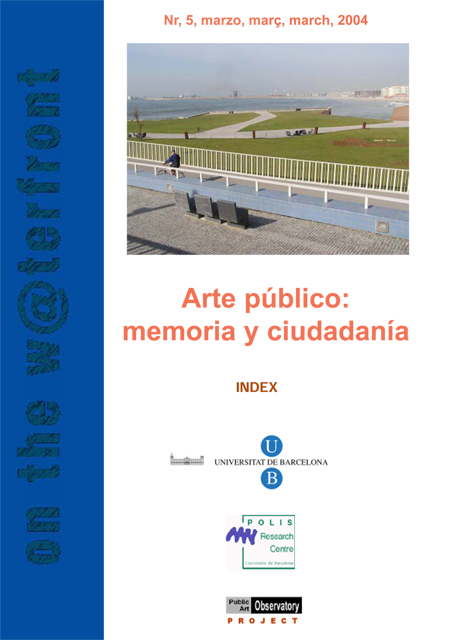 How to Cite
Antoni, Remesar, Sergi Valera, Nemo A. Remesar Aguilar, Adriana Hernández, Núria Ricart, Xavier Salas, and Tomeu Vidal. 2004. "Poblenou Y La Mina [Barcelona], participación Creativa Con La metodología De Las CPBoxes". On the W@terfront, no. 5 (March):53-74. https://revistes.ub.edu/index.php/waterfront/article/view/18958.
License
The 
 licence allows: Share — copy and redistribute the material in any medium or format and Adapt — remix, transform, and build upon the material for any purpose, even commercially.The licensor cannot revoke these freedoms as long as you follow the license terms. Author's rights are protected by the ISSN 1139-7365. On the w@terfront has no restrictions respect the copyright by the authors and does allow authors to retain the publishing rights without restrictions.
This journal does not apply any type of charge to the authors for the presentation or processing of the articles.