PEDESTRIAN MOBILITY "MECHANICALLY SUPPORTED "
Keywords:
Pedestrian, accessibility, downtown, Lisboa
Abstract
The city of Lisbon has been experiencing several changes in its accessibility system, which focused mainly in the improvement and expansion of its road network. However, efforts to improve this system too often resulted in less quality and safety conditions for the pedestrians moving in the city. Regarding the planning of pedestrian mobility, the last decades can be
characterized by a general waste of the walking potential in the city's mobility system, and by the reduction of the quality of pathways and spaces that were historically related to it.
The aim of this paper is to analyze and demonstrate the viability of rehabilitating walking as a mean of transportation well suited to short-distance trips and how the introduction of systems to support mobility can contribute to the enhancement and encouragement of pedestrian mobility, more specifically in Lisbon historical centre.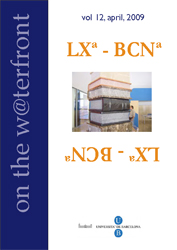 How to Cite
Valente, Marta. 2009. "Quot";. On the W@terfront, no. 12 (April):101-18. https://revistes.ub.edu/index.php/waterfront/article/view/18888.
License
The 
 licence allows: Share — copy and redistribute the material in any medium or format and Adapt — remix, transform, and build upon the material for any purpose, even commercially.The licensor cannot revoke these freedoms as long as you follow the license terms. Author's rights are protected by the ISSN 1139-7365. On the w@terfront has no restrictions respect the copyright by the authors and does allow authors to retain the publishing rights without restrictions.
This journal does not apply any type of charge to the authors for the presentation or processing of the articles.