DA AZINHAGA À ESTRADA. MEMÓRIA E IDENTIDADE NA ZONA ORIENTAL DE LISBOA
Keywords:
Public Art, Urban Design, Civic Participation
Abstract
This study is based upon a reflection about the factors present in the construction of certain space's identity and in the
existing relations between memory and place.
It is taken as example the Oriental Area of Lisbon (already studied in previous papers, under different perspectives), in which
is foreseen to exist an oriental identity, disclosed in a physical and social homogeneity, in a group of characteristics that
distinguishes this area from the remaining city reality.
Because of its condition as living spaces – in opposition to edified patrimony, "petrified places" (Fortuna, 1999) –, the public
urban spaces reveal different time spaces as a support of the edified unity, translating place's specificity trough its trace,
establishing themselves as identity factors, susceptible to create new urban living experiences, if readapted to contemporary
times…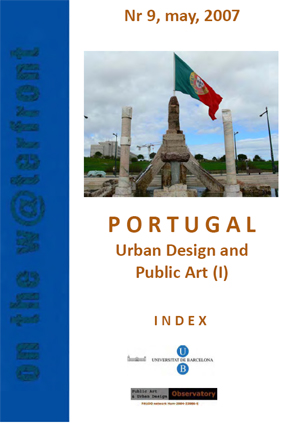 How to Cite
Ochoa, Rita. 2007. "DA AZINHAGA À ESTRADA. MEMÓRIA E IDENTIDADE NA ZONA ORIENTAL DE LISBOA". On the W@terfront, no. 9 (April):33-41. https://revistes.ub.edu/index.php/waterfront/article/view/18925.
License
The 
 licence allows: Share — copy and redistribute the material in any medium or format and Adapt — remix, transform, and build upon the material for any purpose, even commercially.The licensor cannot revoke these freedoms as long as you follow the license terms. Author's rights are protected by the ISSN 1139-7365. On the w@terfront has no restrictions respect the copyright by the authors and does allow authors to retain the publishing rights without restrictions.
This journal does not apply any type of charge to the authors for the presentation or processing of the articles.