The Neighborhood Plan of the City of Barcelona
Keywords:
Neighborhood Plan, Social innovation, urban segregation, citizen participation, Bon Pastor
Abstract
Foment de Ciutat, is the public company that manages the initiative of the Barcelona City Council called Plan de Barrios. The Neighborhood Plan is articulated as one of the public policies of the City Council, with an initial allocation of 150 M €, which aims to alleviate social segregation, through the articulation of social innovation actions. It affects 16 neighborhoods of Barcelona, basically in the Besòs river area. The Plan acts in four major areas: education, social rights, economic activity and urban ecology. Bon Pastor is included in the plan devoted to Baró de Viver- Bon Pastor.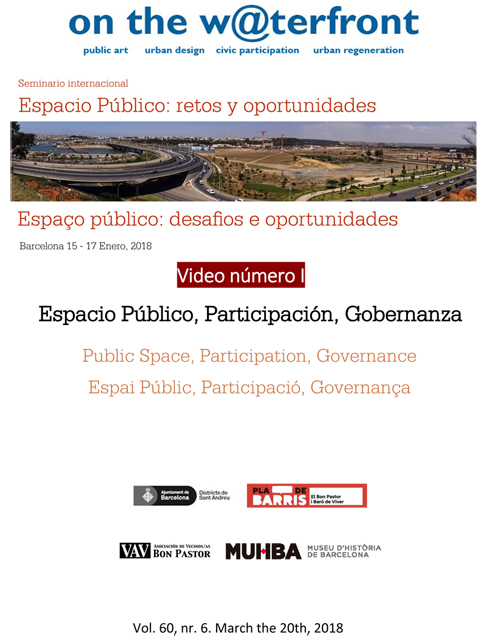 Downloads
How to Cite
Lozano, Miguel Ángel. 2018. "The Neighborhood Plan of the City of Barcelona". On the W@terfront 60 (6). https://revistes.ub.edu/index.php/waterfront/article/view/21580.
License
The 
 licence allows: Share — copy and redistribute the material in any medium or format and Adapt — remix, transform, and build upon the material for any purpose, even commercially.The licensor cannot revoke these freedoms as long as you follow the license terms. Author's rights are protected by the ISSN 1139-7365. On the w@terfront has no restrictions respect the copyright by the authors and does allow authors to retain the publishing rights without restrictions.
This journal does not apply any type of charge to the authors for the presentation or processing of the articles.