Una visión vecinal reivindicativa
Keywords:
, Memoria histórica, Casas Baratas, Espacio museístico, archivo social, nomenclátor.
Abstract
La Asociación de Vecinos es la entidad del barrio que tiene mayor solera y tradición desde su fundación en 1974. Desde la asociación de vecinos se hizo el encargo a la Universidad de Barcelona de intervenir en el espacio público con un foco en la memoria histórica del barrio. La idea es que los vecinos del barrio plasmen su propia memoria en el espacio público que complemente la serie de publicaciones producidas por los propios vecinos y editadas por el Ayuntamiento de Barcelona. La memoria del barrio debería suponer, también, la modificación del nomenclátor del barrio, con el nombre de aquellas personas que contribuyeron al desarrollo barrial, como seria el caso de José de Tapia, maestro que introdujo el método de imprenta durante la II República, o Celestí Boada, que fuera alcalde de Santa Coloma cuando gran parte del barrio pertenecía, administrativamente, a esta localidad. Analiza el papel que,  en  el espacio museístico de las casas baratas, podrá tener el archivo de documentación impulsado por los vecinos.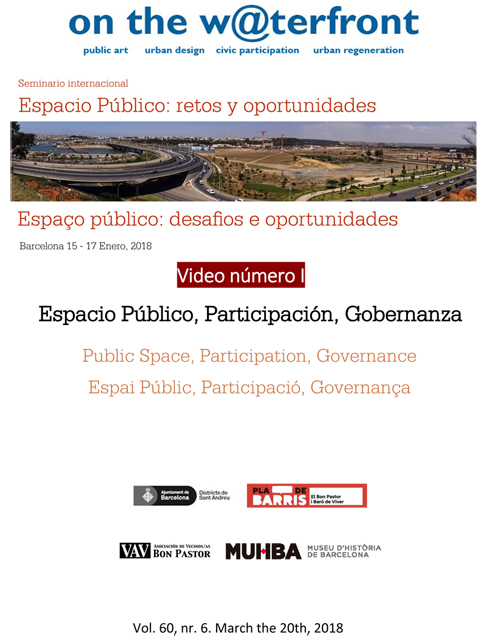 Downloads
How to Cite
Capsir, Josep. 2018. "Una visión Vecinal Reivindicativa". On the W@terfront 60 (6). https://revistes.ub.edu/index.php/waterfront/article/view/21581.
License
The 
 licence allows: Share — copy and redistribute the material in any medium or format and Adapt — remix, transform, and build upon the material for any purpose, even commercially.The licensor cannot revoke these freedoms as long as you follow the license terms. Author's rights are protected by the ISSN 1139-7365. On the w@terfront has no restrictions respect the copyright by the authors and does allow authors to retain the publishing rights without restrictions.
This journal does not apply any type of charge to the authors for the presentation or processing of the articles.