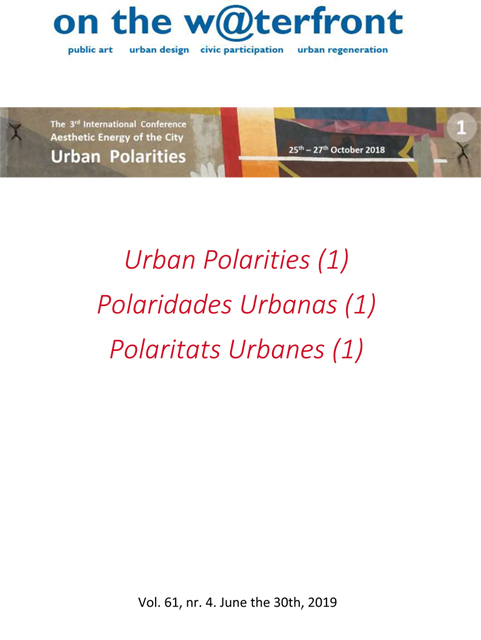 'Signos de bienvenida' en el espacio público: separación e identidad
Resumen
Propósito: el propósito principal de este artículo es presentar investigaciones sobre los "signos de bienvenida" como elementos simbólicos en la representación territorial, que tienen al menos dos significados: identidad simbólica reveladora de un lugar en particular y el espacio es un elemento de cierto ritmo público. Por lo tanto, el segundo objetivo es definir el valor de dichos signos visuales en la estrategia de marca de un lugar.
Metodología / enfoque: la investigación aprovecha el análisis de contenido de los signos para hacer conclusiones que se refieren al proceso de comunicación y colocar conceptos de marketing.
Hallazgos: los "signos de bienvenida" son instalaciones simbólicas, que son testimonios de lugares específicos. Además del papel de la identificación, la información y la publicidad, estos signos también tienen un significado estético y son formas espaciales de división territorial.
Implicaciones prácticas: las "señales de bienvenida" están hechas de manera intuitiva por las autoridades legítimas, por lo que su examen y la construcción de un modelo de su contenido y diseño podrían ser muy beneficiosos y útiles para la LGU.
Originalidad: hasta ahora, los signos de bienvenida no han sido particularmente los temas de las investigaciones de mercadeo, sociales o políticas.
Palabras clave
comercialización del lugar; identidad visual; señalización espacio publico
Referencias
ADAMUS-MATUSZYŃSKA, ANNA, and PIOTR DZIK: Tożsamość wizualna polskich województw, miast i powiatów. Identyfikacja, prezentacja, znaczenie. Katowice, Toruń: ASP w Katowicach, Wydawnictwo Adam Marszałek, 2017.

BELTING, HANS: Antropologia obrazu. Szkice do nauki o obrazie. Translated by Mariusz Bryl. Kraków: Universitas, 2012.

BOURDIEU, PIERRE Language and Symbolic Power, Polity Press, Cambridge, 1991.

CHERNATONY, LESLIE DE; MCDONALD, MALCOLM, and WALLACE, ELAINE. Creating Powerful Brands. London: Routledge, 2013.

CLEEREMANS, AXEL A.: Mechanisms of implicit learning: A connectionist model of sequence processing. MIT Press, Cambridge, USA, 1993.

GIBBS, DAVID. "See how you feel," in ANGUS HYLAND and STEVEN BATEMAN, Symbol. The reference guide to abstract and figurative trademarks. London: Laurence King, 2014.

GOŹLIŃSKA, KAROLINA (Ed.), Biblioteka wizerunku miasta. Część 1 – miejskie powitanie. Warszawa, AMS, 2013.

KAPFERER, JEAN-NOËL: The New Strategic Brand Management. Creating and Sustaining Brand Equity Long Term. London & Philadelphia: Kogan Page, 2008.
KISZLUK, GRZEGORZ: "Witacz jako wizytówka", [in:] Biblioteka wizerunku miasta, AMS, Warszawa, p. 2012, 17-21.

KOTLER PHILIP, HAIDER D.H., REIN I.: Marketing Places. Attracting Investment, Industry, and Tourism to Cities, States and Nations, The Free Press, Nowy Jork, 1993.

LYNCH, KEVIN: The Image of the City. Cambridge: Mit Press, 1960
MAIGRET ERIC, Socjologia komunikacji i mediów. Oficyna Naukowa, Warszawa 2012

MOLLERUP, PER: Marks of Excellence. London: Phaidon Press, 2013
MOLLERUP, PER. Wayshowing>Wayfinding. Basic & Interactive. Amsterdam: BIS Publishers, 2013.

AGNIESZKA OGONOWSKA: Przemoc ikoniczna. Zarys wykładu. Wydawnictwo Naukowe Akademii Pedagogicznej, Kraków, 2004.

OLINS, WALLY. Wally Olins: The Brand Handbook. London: Thames & Hudson, 2008.

ROSE, GILLIAN: Interpretacja materiałów wizualnych. Krytyczna metodologia badań nad wizualnością, Wydawnictwo Naukowe PWN, Warszawa, 2010.

SCHMITT BRAND, SIMONSON ALEX: Estetyka w marketingu. Strategiczne zarządzanie markami, tożsamością i wizerunkiem firmy, Wydawnictwo Profesjonalnej Szkoły Biznesu, Kraków, 1997.

WHEELER, ALINA. Designing Brand Identity. An essential guide for the whole branding team. Hoboken: Wiley & Sons, 2018.

WISMER, ANDREW J.; BOHIL, COREY J.: Base-rate sensitivity through implicit learning. "PLOS One", https://doi.org/10.1371/journal.pone.0179256, 2017.
VELA JORDI DE SAN EUGENIO, JOAN NOGUE, ROBERT GOVERS, Visual landscape as a key element of place branding. "Journal of Place Management and Development", vol. 10, no. 1, 2017.

VUIGNIER, RENAUD. "Place branding & place marketing 1976-2016: A multidisciplinary literature review," International Review on Public and Nonprofit Marketing, 14, issue 4 (Dec. 2017), p. 447-473

ZNAMIEROWSKI, ALFRED. Heraldyka i weksylologia. Warszawa: Arkady, 2017
PRAWO BUDOWLANE (Construction Law), http://isap.sejm.gov.pl/isap.nsf/DocDetails.xsp?id=WDU19940890414

PRAWO AUTORSKIE (Author's Law) http://isap.sejm.gov.pl/isap.nsf/DocDetails.xsp?id=WDU19940240083
DOI:
https://doi.org/10.1344/waterfront2019.61.6.4
Enlaces refback
No hay ningún enlace refback.
Copyright (c) 2019 Anna Adamus-Matuszyńska, Piotr Dzik

Este obra está bajo una
licencia de Creative Commons Reconocimiento 4.0 Internacional
.
________________________________________________________________________________________________________________________
Soporte: Proyectos I+D+I del MICIN HAR2017-88672-R; HAR2012-30874; HAR2011-14431-E; HUM2009-13989-C02-01; HUM2006-12803-C02-01; HUM2005-00420; HUM2004-22086-E; BHA2002-0052;