Aesthetic and Ethical Aspects of Responsibility for Mural Galleries (Comparative Analysis of Collections in Zaspa/Gdańsk, Łódź and Dulwich/London).
Keywords:
Aesthetics, ethics, murals, gallery, Gdańsk, Lodz, Urban Forms, Dulwich Outdoor Gallery, London, restauration, conservation
Abstract
The aim of the article is to draw attention to the aesthetic and ethical aspects of responsibility for creating mural galleries. The three examples – Monumental Art Collection in Gdańsk/Zaspa, Urban Forms Gallery in Łódź, Dulwich Outdoor Gallery in London – have common original aims, directly related to the current problems of districts or cities in which they were created. The analysis of these collections should help us answer the following questions:
1. What happened and when to make such a visually intense and massive interference in a public space as mural galleries possible at all?
2. Are collections of murals actually galleries or is the term "gallery″ just a conceptual metaphor that facilitates actions taken in a public space?
3. What values – aesthetic, ethical, and correlated with them social, artistic, urban, cognitive, and educational values – can be associated with the phenomenon of murals?
4. Should we protect and restore murals or leave them to the "natural urban element"?
References
Beazley, Ingrid, Street Art, Fine Art. London: Heni Publishing, 2015Begum, Shapa. "Dulwich Outdoor Gallery comes indoors". Dulwich on View, published 17 May 2016, https://dulwichonview.org.uk/2016/05/17/dulwich-outdoor-gallery-comes-indoors/.
Benjamin, Walter. "Unpacking my Library. A Talk about Book Collecting". In: Walter Benjamin, Illuminations: Essays and Reflections, transl. Harry Zohn. New York: Schocken Books, 2007.
Bensaïd, Halim. "Mural Painting And The Spirit Of The Place Versus Graffiti And Street Art." In: Aesthetic Energy of the City. Experiencing Urban Art And Space, edited by Agnieszka Gralińska-Toborek, Wioletta Kazimierska-Jerzyk, Łódź: Wydawnictwo Uniwersytetu Łódzkiego/ Urban Forms Foundation, 2016, 155–157.
Binkley, Timothy. "Deciding About Art. In: Culture and Art, edited by Lars Aagaard-Mogensen. Atlantic Highlands, NJ: Humanities Press, 1976, 90-109.
Biskupski, Łukasz. Prosto z ulicy. Sztuki wizualne w dobie mediów społecznościowych i kultury uczestnictwa, Warszawa: Fundacja Bęc Zmiana, 2017.
Danto, Arthur Coleman. "The Philosophical Disenfranchisement of Art." Grand Street, Vol. 4, No. 3, 1985, 171–189.
Dickie, George. Aesthetics, An Introduction, New York: Pegasus, 1971.
Feuer, Alan. "Graffiti Artists Awarded $6.7 Million for Destroyed 5Pointz Murals." The New York Times, February 12, 2018, https://www.nytimes.com/2018/02/12/nyregion/5pointz-graffiti-judgment.html, accessed 19.12.2018
Dagmara Staniszewska editor. Galeria Urban Forms 2009–2015/ Urban Forms Gallery. Łódź: Fundacja Urban Forms, 2016.
Gałkowski, Artur. "Chrematonimia w kulturze współczesnej", Onomastica, LXI/1, 2017, 55–71.
Teresa Latuszewska-Syrda editor. Gdańskie Fasady OdNowa. Projekt nadania dekoracji artystycznych fasadom kamienic na obszarze Głównego Miasta w Gdańsku 2013–2017, Gdańsk: Fundacja Urban Forms, 2017.

Grabowska, Magdalena. "Zakaz muralowania – rozmowa z Mariuszem Warasem M-City", Sztukapubliczna.pl, 2016, https://sztukapubliczna.pl/pl/zakaz-muralowania-mariusz-waras/czytaj/25.

Gralińska-Toborek, Agnieszka and Wioletta Kazimierska-Jerzyk. Experience of Art in Urban Space. Urban Forms Gallery 2011-2013, Łódź: Biblioteka & Urban Forms Foundation, 167–178.

Gruszkowski, Wiesław. "Nowa dzielnica mieszkaniowa w Gdańsku. Konkurs zamknięty SARP nr 423". Architektura, No. 8/273, 1970, 277–281.

Hermida, Eduardo. "Introduction", http://lasmeninasdecanido.com/assets/banksy/pdf/info_en.pdf.
Howard-Griffin Richard, "Dulwich Outdoor Gallery. A Radical Project. In: Ingrid Beazley, Street Art, Fine Art. Dulwich Outdoor Gallery, Dulwich Picture Gallery, London: Heni Publishing, 2015, 14.

Iglesias, Lorena Arévalo. "Principales figuras del Street Art en Galicia." Historia y Comunicación Social, Vol. 19. Nº Esp. Enero, 2014, 565–575.

Kazimierska-Jerzyk, Wioletta. "Totems of Lodz – Socratic Beauty of Shapes", Energiamiasta.com, https://energiamiasta.com/2017/10/24/totems-of-lodz/.

Kwon, Miwon. One Place After Another. Site-Specific Art and Locational Identity. Cambridge, Massachusetts–London, England: The Mit Press, 2001.

Latuszewska-Syrda, Teresa. "Łódź, 2014". In: Galeria Urban Forms 2009–2015, edited by Dagmara Staniszewska. Łódź: Fundacja Urban Forms, 2016.

Legal and Practical Measures Against Illicit Trafficking in Cultural Property. UNESCO Handbook, International Standards Section, Division of Cultural Heritage. Paris: UNESCO, 2006.

Lerman, Celia. "Protecting Artistic Vandalism: Graffiti and Copyright Law", NYU Journal of Intellectual Property and Entertainment Law, Vol. 2, 294–337.

Lewishon, Cedar. Street Art. The Graffiti Revolution. London: Tate Publishing, 2008.

Litorowicz, Aleksandra and Mirosław Duchowski, Jacek Drozda, Bartosz Kopczyński, Anna Pietraszko, Zofia Rojek, Edyta Welter, Karol Wittels. Mury. Diagnoza dynamiki środowiska twórców malarstwa monumentalnego. Raport z badań. Warszawa: Instytut Badań Przestrzeni Publicznej/Akademia Sztuk Pięknych w Warszawie, 2016.

M@, "Baroque The Streets: Dulwich House Gets Street Art Makeover", Londonist.com, 17 May 2013, https://londonist.com/2013/05/baroque-the-streets-dulwich-house-gets-street-art-makeover
Orłowski, Jarosław. Kolekcja malarstwa monumentalnego. Gdańsk – Zaspa. Przewodnik. Gdański: Instytut Kultury Miejskiej, 2019.

Ruiz, Gerson. "Festival de arte urbano en Galicia 'Las Meninas de Canido'". Digerible.com/arte urbano, 2.09.2018, https://digerible.com/festival-de-arte-urbano-en-galicia-las-meninas-de-canido/.
Rutkiewicz-Hanczewska, Małgorzata. "Moda w zakresie morfologii współczesnych emporionimów", Poznańskie Spotkania Językoznawcze, No. 27, 2014, 135–144.

Seabrook, John. Nobrow: The Culture of Marketing, the Marketing of Culture. New York: Vintage, 2001.
Siegrist, Jenn. "Baroque the Streets: the Art House", Dulwich on View, published 2 July 2013, https://dulwichonview.org.uk/2013/07/02/baroque-the-streets-the-arthouse-2.

Simmel Georg, "OnAesthetic Quantity". In: Georg Simmel, The Conflict in Modern Culture and Other Essays, translated by K. Peter Etzkorn. New York: Teachers College Press, 1968, 135–148.

Sontag Susan, "One Culture and the New Sensibility". In: Susan Sontag. Against Interpretation and Other Essays, New York: Picador, 2001, 293–304.

Stróżewski, Władysław. "O wielkości." Kwartalnik Filozoficzny Vol. XXII, Issue. 1–2, 1994, 5–30.

Świeściak, Martyna and Paweł Matulewski, Mirosław Makohonienko, "Turystyka graffiti w opinii respondentów z wybranych miast: Gdańsk, Łódź, Poznań", Turystyka Kulturowa, No. 8, 2015, 41–56.

Websites:

Art from the Streets https://www.marinabaysands.com/museum/exhibition-archive/art-from-the-streets.html
CitéCréation, https://citecreation.fr/en/.

Energiamiasta.com, https://energiamiasta.com/2017/10/24/totems-of-lodz/.

Galeria de Arte Urbana, http://gau.cm-lisboa.pt/en/gau.html.

Gdańskie Fasady OdNowa [Renovation of facades in Gdańsk], https://www.fasadyodnowa.pl/pl/o-projekcie/,

Guinness World Records, http://www.guinnessworldrecords.com/world-records/114466-largest-spray-paint-mural-by-a-team; http://www.guinnessworldrecords.com/world-records/largest-outdoor-mural.
Le Grenoble Street Art Fest, https://www.streetartfest.org/visites-guidees/.

Mural Arts Philadelphia, https://www.muralarts.org/.

Sreet Art London, see: https://streetartlondon.co.uk/about-us/.

The Artists' Open House event http://dulwichfestival.co.uk/manage/wp-content/uploads/DF_2019_Artists _Open_House_Booklet_web.pdf.

The London Mural Preservation Society, http://www.londonmuralpreservationsociety.com/about/.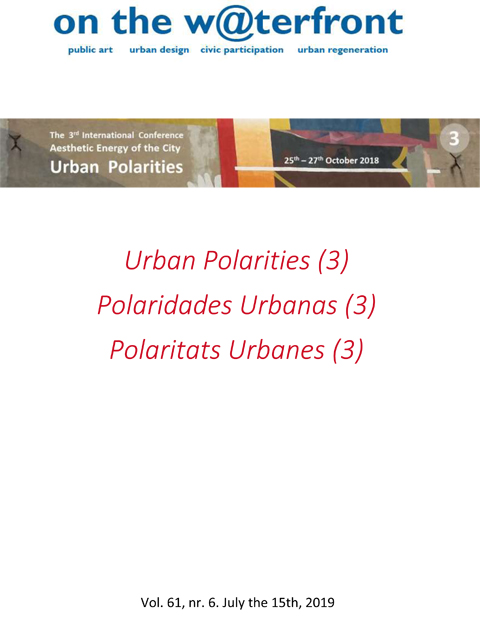 Downloads
How to Cite
Kazimierska-Jerzyk, Wioletta. 2019. " Łódź and Dulwich/London)". On the W@terfront 61 (6):3-43. https://doi.org/10.1344/waterfront2019.61.6.7.
License
The 
 licence allows: Share — copy and redistribute the material in any medium or format and Adapt — remix, transform, and build upon the material for any purpose, even commercially.The licensor cannot revoke these freedoms as long as you follow the license terms. Author's rights are protected by the ISSN 1139-7365. On the w@terfront has no restrictions respect the copyright by the authors and does allow authors to retain the publishing rights without restrictions.
This journal does not apply any type of charge to the authors for the presentation or processing of the articles.