2000-2011: El lugar de la memoria
Paraules clau:
Memoria histórica, diseño urbano, arte público, monumento, espacios de memoria, historical memory, urban design, public art, monuments, places of memory
Resum
La historia de España durante el siglo XX está marcada por una serie de episodios dramáticos, que producen un distanciamiento social muy complejo. El largo periodo franquista que sucede a una guerra fratricida de tres años no es condenado y revisado por las instituciones democráticas hasta el año 2004, cuando la demanda ciudadana apela a la necesidad de restituir la memoria a más de 30.000 desaparecidos. Se inicia un proceso político, cultural y social que marcará una "segunda transición", la de la memoria histórica, superando de este modo el olvido acordado tras la muerte del dictador. Las competencias del desarrollo legal que marcan esta segunda transición son abordadas a escala autonómica, produciendo un desequilibrio territorial atenazado por intereses políticos. En Catalunya, se crea una nueva institución pública dedicada al desarrollo de la memoria histórica: el Memorial Democràtic. En este artículo abordamos de forma especial el interés prestado por esta institución a los llamados espacios de memoria; cuya singularidad será señalizada y dignificada, entendiendo el territorio a escala global y local.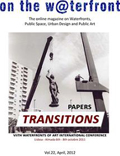 Descàrregues
Com citar
Ricart, Núria. 2012. "2000-2011: El Lugar De La Memoria". on the w@terfront. Public Art.Urban Design.Civic Participation.Urban Regeneration, no. 22 (April):25-46. https://revistes.ub.edu/index.php/waterfront/article/view/18781.
Llicència
The 
 licence allows: Share — copy and redistribute the material in any medium or format and Adapt — remix, transform, and build upon the material for any purpose, even commercially.The licensor cannot revoke these freedoms as long as you follow the license terms. Author's rights are protected by the ISSN 1139-7365. On the w@terfront has no restrictions respect the copyright by the authors and does allow authors to retain the publishing rights without restrictions.
This journal does not apply any type of charge to the authors for the presentation or processing of the articles.