THOUGHTS ON PUBLIC SPACE
Keywords:
Public space, interdisciplinarity, public sphere, Espacio público, City management
Abstract
In this paper we are approaching the idea of public space as the phenomenon which involves life in cities. We understand public space as a multifaceted and multidimensional network, whose analysis goes through the identification of various issues: the identification of the boundaries between public space and public sphere; the built dimension of public space; the theoretical approach to the contemporary phenomenon;the social dimension; and finally the city management perspective. All hese aspects express a critical view and value the interdisciplinary and multiscale approach, fundamental to understand and intervene in the public space ofthe contemporary city.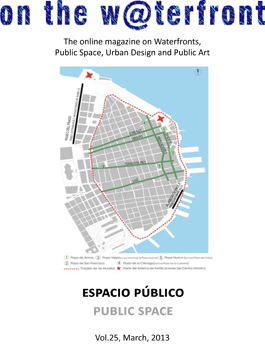 Downloads
How to Cite
Remesar, Antoni, and Núria Ricart. 2013. "THOUGHTS ON PUBLIC SPACE". On the W@terfront, no. 25 (April):5-35. https://revistes.ub.edu/index.php/waterfront/article/view/18792.
License
The 
 licence allows: Share — copy and redistribute the material in any medium or format and Adapt — remix, transform, and build upon the material for any purpose, even commercially.The licensor cannot revoke these freedoms as long as you follow the license terms. Author's rights are protected by the ISSN 1139-7365. On the w@terfront has no restrictions respect the copyright by the authors and does allow authors to retain the publishing rights without restrictions.
This journal does not apply any type of charge to the authors for the presentation or processing of the articles.