The latest public art commissions by "Estado Novo" (1965-1985)
Keywords:
New State last public art orders, systems of public art, Portuguese dictatorship and early years of democracy
Abstract
This paper addresses the creation and placement of the last public art orders produced by the Portuguese dictatorship. The impact produced by the political shift to democracy in many of the orders commissioned by the New State, specially the statues waiting to be placed in the early years of Democracy is the main subject of this paper. A progressive change of procedures and ways of deliver public art orders after the middle sixties is primarily discussed as it constitutes the first sign of the failure of the New State system of public art running between 1938 e 1960. It considers the activity of the Portuguese Ministry of Public Works (MOP) and Lisbon Municipality Council (CML), in the period encompassing 1965 to 1986, corresponding to the last years of dictatorship and the joining of Portugal to the EEC, in what concerns the placement of statues intended for public spaces. Monuments paying tribute to the main characters of the regime, Salazar and Carmona, have been removed after the Carnation Revolution. But a couple of years after democracy being established, some statues promoted by the New State find their way to public spaces of several Portuguese towns.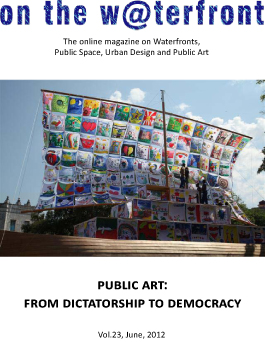 Downloads
How to Cite
Elias, Helena, and Inês Marques. 2012. "The Latest Public Art Commissions by 'Estado Novo' (1965-1985)". On the W@terfront, no. 23 (June):5-29. https://revistes.ub.edu/index.php/waterfront/article/view/18793.
License
The 
 licence allows: Share — copy and redistribute the material in any medium or format and Adapt — remix, transform, and build upon the material for any purpose, even commercially.The licensor cannot revoke these freedoms as long as you follow the license terms. Author's rights are protected by the ISSN 1139-7365. On the w@terfront has no restrictions respect the copyright by the authors and does allow authors to retain the publishing rights without restrictions.
This journal does not apply any type of charge to the authors for the presentation or processing of the articles.