Da portela a Pedrouços. As obras públicas de Duarte Pachecho e arte na periferia de Lisboa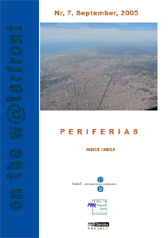 How to Cite
Elias, Helena. 2005. "Da Portela a Pedrouços. As Obras Públicas De Duarte Pachecho E Arte Na Periferia De Lisboa". On the W@terfront, no. 7 (September):67-77. https://revistes.ub.edu/index.php/waterfront/article/view/18943.
License
The 
 licence allows: Share — copy and redistribute the material in any medium or format and Adapt — remix, transform, and build upon the material for any purpose, even commercially.The licensor cannot revoke these freedoms as long as you follow the license terms. Author's rights are protected by the ISSN 1139-7365. On the w@terfront has no restrictions respect the copyright by the authors and does allow authors to retain the publishing rights without restrictions.
This journal does not apply any type of charge to the authors for the presentation or processing of the articles.