Public Art and Regional Railway Remembrance (Southwest of Buenos Aires, Argentina. 2003/2016)
Keywords:
Public art, railway memory, Argentina, Ferrowhite, Nicolás Levalle, site specific, cross cartography, enchanted places.
Abstract
In the 90s, the final degradation of the state-owned railway system promoted by President Carlos Menem in the framework of a series of neoliberal measures meant, paradoxically, that it became an attraction for regional public art. At that time, the Municipal Museum of Art of Bahia Blanca promoted a National Symposium of Monumental Sculpture inviting ten artists to use iron scrap. According to the modern paradigm of autonomous art, they were later found in a linear park that began to be called Paseo de las Esculturas.
This article deals with the second stage as a vehicle of memory. In the 21st century, the use of abandoned buildings for cultural purposes paralleled the beginning of a reactivation of the railway carried out by Kirchner, although its effects were not felt in the region. The creation of the museum-workshop Ferrowhite (2003), the presentation of the "Intemperie" project at the Regional Biennial of Art in 2014 and the actions of the Asociación Amigos de la Estación Nicolás Levalle in that same year, have promoted a memory debated between a poetry of the ruins and a patrimonial recovery. These proposals located in specific sites have recovered their historical contexts and woven into them social networks through participatory and collaborative practices, creating the conditions to generate complicity among the members and become "enchanted places" (Certeau). Taking into account that they pose themselves as centers and their emergent practices have been produced from an ambiguous artistic-historical-political-social frontier, these community-based initiatives can be characterized as cross- cartography.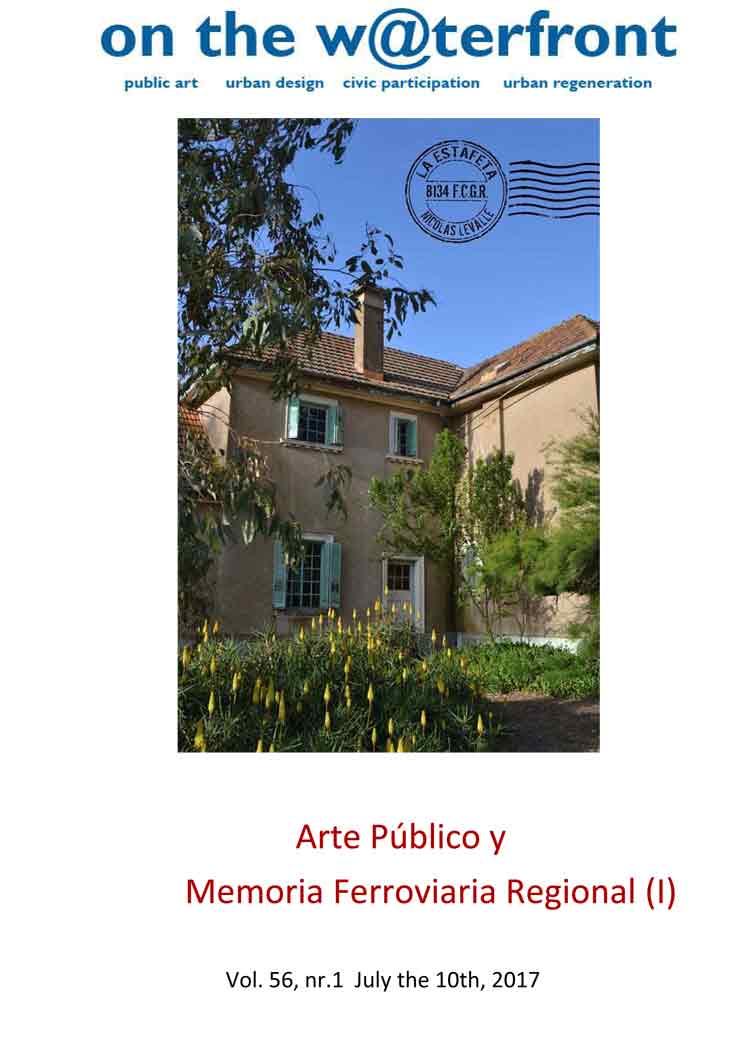 How to Cite
Ribas, Diana I. 2017. "Public Art and Regional Railway Remembrance (Southwest of Buenos Aires, Argentina. 2003/2016)". On the W@terfront 56 (1):7-39. https://revistes.ub.edu/index.php/waterfront/article/view/19359.
License
The 
 licence allows: Share — copy and redistribute the material in any medium or format and Adapt — remix, transform, and build upon the material for any purpose, even commercially.The licensor cannot revoke these freedoms as long as you follow the license terms. Author's rights are protected by the ISSN 1139-7365. On the w@terfront has no restrictions respect the copyright by the authors and does allow authors to retain the publishing rights without restrictions.
This journal does not apply any type of charge to the authors for the presentation or processing of the articles.